The launch of a Call of Duty game has become an annual fixture for London's celebrity set and Monday night saw a small battalion of them hit the Bloomsbury Ballroom for the Black Ops II party.
The roll call included Professor Green, gymnast and Olympic medallist Louis Smith, pop-prince Conor Maynard, actor Alfie Allen and comedian Jack Whitehall.
In contrast to last week's Halo 4 UFO launch, the Black Ops II event focussed on the pixelated action.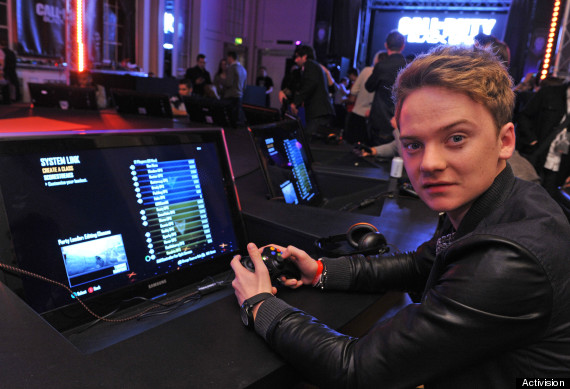 Conor Maynard tests his gaming skills against the other stars at the Black Ops II launch
The celebrities manned dozens of Xbox 360 consoles in droves to check out the multiplayer levels in the 9th Call of Duty game - and Sky Sports' football correspondent Chris Kamara pitched in to conduct post-game interviews.
The game play sessions brought out the competitive side in Conor Maynard who took to the circular war table several times throughout the evening and shared his excitement with his hundreds of thousands of twitter followers.
He also proved a bit of a hit with the cast of Towie, with the likes of Mario Falcone and Ricky Rayment getting their pictures taken with him throughout the night.
If the serious looks of concentration from everyone playing the game are anything to go by, it looks like publisher Activision has another hit on its hands.
Black Ops II Launch Party