Jerusalem has been targeted by long range rockets fired by Hamas militants, the first time the city has been hit in the recent escalation of violence.
The attack came prior to a a new Israeli strike on Gaza killed four Palestinians, including Hamas military commander Ahmed Abu Jalal.
The Israeli Defence Force has confirmed that a rocket fired from Gaza struck an uninhabited area on the outskirts of the Israeli city. The government has confirmed the call-up of 75,000 reservists "in principle", increasing the possibility of a ground attack.
A second rocket has also been confirmed although its origin is currently unknown.
Al Qassam Brigades, the armed wing of Hamas, claimed responsibility for the attacks after promising a "surprise" earlier in the day.
The claims by Al Qassam Brigades that they have shot down a warplane are also unconfirmed.
Although there are no reports of injuries, the psychological effects of rockets striking so far into Israel will be felt.
Earlier in the day Tel Aviv was targeted for a second time.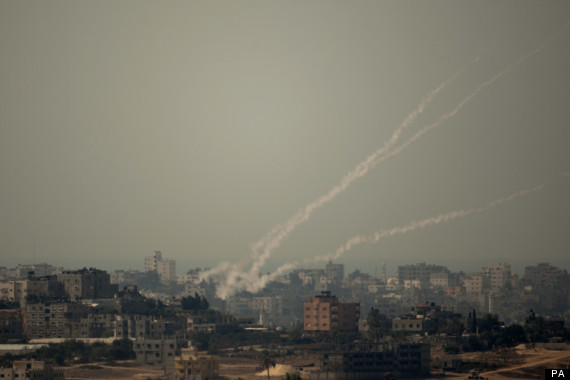 Rockets fired from Gaza on Wednesday
Three Israelis and 22 Palestinians - including eight militants - are now reported to have been killed in the violence since Wednesday.