Independent candidates have won 12 of the 41 posts in the first elections for crime commissioners, with many shunning bigger political candidates in the contest.
Results show an even split between Labour and Conservative candidates, with defeat for Lord Prescott the biggest shock of the first elections. With one result still to come in, the Conservatives have won 15 commissioner posts, whilst Labour have 13.
It was another bruising day at the polls for the Liberal Democrats, who looked set to trail UKIP in fourth place in the overall vote. Some have argued the newly elected PCCs will not have a mandate to lead
Among other high-profile losers was Conservative former minister Michael Mates who lost in Hampshire to independent Simon Hayes, after controversy during the campaign over whether he was living within the county.
But the declarations were notable as much for the record-low numbers of voters taking part as for the victors themselves, leading a watchdog to order a review.
Fewer than one in five made it to polling stations to choose from candidates for the new £100,000-a-year posts yesterday - with Newport City Council recording not a single voter all day.
The Electoral Commission said it was "a concern for everyone who cares about democracy", complaining that the government had ignored warnings of a stay-away.
Ministers have been accused of failing properly to promote the poll.
Prime Minister David Cameron rejected claims that the turnout undermined the mandate to run local forces, with powers over policing priorities, budget and hiring and firing chief constables.
Once the new generation of "local law and order champions" got to work, the public would come to appreciate the innovation and turnout would be "much higher" next time, he predicted.
"Yes, they have a mandate. The turnout was always going to be low, when you're electing a new post for the first time.
"Those people in post will be able to prove their worth - that they are holding the police to account, they are getting things done for local people, they are prioritising the law and order crackdown that the people want to see."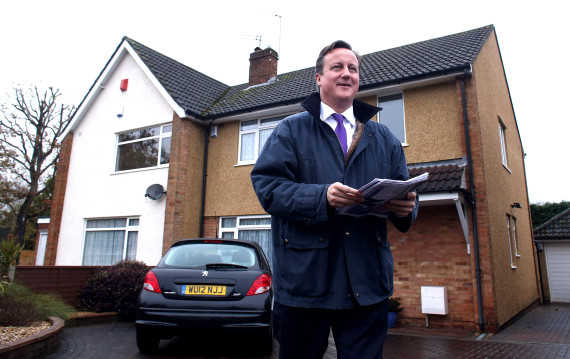 David Cameron helps deliver election leaflets for Ken Maddock, Avon and Somerset Police and Crime Commissioner candidate
Shadow home secretary Yvette Cooper said it was "shocking" that the government had spent up to £100 million on elections which had failed to engage the public.
"People told us either they didn't have enough information, didn't know the elections were happening, didn't support them or didn't want to go out in the dark to vote," she said.
Liberal Democrat president Tim Farron warned it would be "extremely difficult" for PCCs to claim a mandate when they were elected by just 7-8% of registered voters in their area.
And one Tory backbencher, Conor Burns, broke ranks to suggest that the government would "live to regret" introducing PCCs and that he wished he had not voted for the legislation.
Home Secretary Theresa May said she was "obviously disappointed" but defended the Government's promotion of the elections.
Turnout in some cities - like Coventry - barely scraped above 10%. The record peacetime low for a national poll is 23% at the 1999 European Parliament elections.
Yesterday's polls were dubbed a "comedy of errors from start to finish" by the Electoral Reform Society which called for those responsible to be "held to account".
And promising a report to Parliament by early next year, the Electoral Commission said lessons would have to be learned.
"The government took a number of decisions about how to run these elections that we did not agree with," said chair Jenny Watson.
Among the victors were several former Labour ministers: Alun Michael in South Wales, Jane Kennedy in Merseyside, Tony Lloyd in Greater Manchester, ex-solicitor general Vera Baird in Northumbria and Paddy Tipping in Nottinghamshire.
In Durham, former deputy chief constable Ron Hogg was successful.