A post-mortem was under way today into the first elections for police commissioners in England and Wales after the poll was marred by a record-low turnout.
Only around one in seven bothered to go to the ballot box, forcing David Cameron and Conservative ministers to defend a flagship policing reform and deny the role lacked a popular mandate.
A detailed inquiry has been ordered by the Electoral Commission, the watchdog accusing the Government of failing to listen to its warnings about potential problems.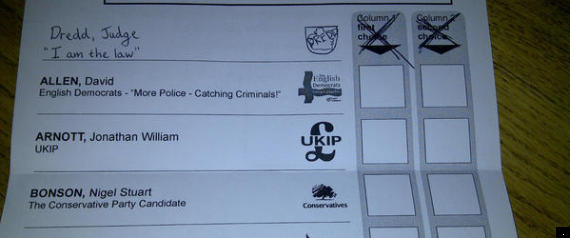 A Tumblr blog has been set up of marked ballot papers
Independents were the big winners, a number of former senior police officers and an ex-judge among 12 non-party candidates chosen for the new £100,00-a-year jobs.
Another scored a surprise victory over Labour in the Bristol mayoral election.
The other Police and Crime Commissioners (PCCs) - which replace police authorities for all forces outside London - are either Conservative (16) or Labour (13).
The highest-profile casualty was Labour former deputy prime minister Lord Prescott, who lost out to his Tory rival in a second-vote run-off in Humberside.
That result took some of the shine off a convincing win for Labour in the Corby by-election, where it secured a 12.7% swing to snatch the seat back from the Tories with a majority of almost 7,800.
Ed Miliband claimed Andy Sawford's win - the party's first Commons seat gain from the Conservatives in 15 years - showed that Middle England was turning its back on David Cameron.
But the Prime Minister sought to play down the reverse as a "classic mid-term result" made worse by the decision of MP Louise Mensch to quit to be with her family in the USA.
Mr Cameron was also forced on the defensive over the PCC elections amid criticism from the watchdog, electoral reform campaigners, opposition parties and one of his own backbenchers.
In some cities barely more than 10% voted with Newport City Council telling the Huffington Post UK that at one polling station in the area not one resident voted for their local PCC candidates all day.
The premier insisted the PCCs did have a mandate despite the turnout being lower than any other in peacetime history and predicted public interest would rise once the commissioners began work.
Shadow home secretary Yvette Cooper said spending up to £100 million on the largely-ignored elections had been "bad for policing, bad for democracy and bad for taxpayers".
And Liberal Democrat president Tim Farron warned that commissioners - who will have powers to set force priorities and budgets as well as to hire and fire chief constables - would struggle to claim a mandate.
Complaints have centred on the Government's alleged failure to give the public enough information about the new role and the candidates - coupled with the poll being held in November's dark and cold conditions.
Electoral Commission chair Jenny Watson said the dismal turnout was "a concern for everyone who cares about democracy" and said a "thorough review" would report its findings to Parliament early next year.
"These were new elections taking place at an unfamiliar time of year, which is why we have made clear at every stage that it would be important to engage effectively with voters," she said.
"The Government took a number of decisions about how to run these elections that we did not agree with.
"But what is important now is that the right lessons are learnt: we will talk to voters, candidates and returning officers to understand what worked and what didn't."
Elsewhere, there were mixed results for Labour, which won Westminster by-elections in the safe seats of Cardiff South and Manchester Central, but suffered a shock defeat in the race for Bristol mayor at the hands of independent George Ferguson.
It was another painful set of elections for the Liberal Democrats.
Their candidate at Corby came fourth behind the UK Independence Party, failing to secure even the 5% of votes needed to retain the party's deposit.
And the Tories's coalition government partner only just scraped ahead of Ukip in the overall vote for police commissioners by 7.19% to 7.04%.
Deputy Prime Minister Nick Clegg said voters were "often quite disenchanted with politics at this mid-term point".
But Ukip leader Nigel Farage hailed his anti-EU party's best ever by-election result as proof that it was replacing the Lib Dems as the third party.
Labour had 32% of the first-preference PCC vote to the Tories' 27.74%.
Sir Hugh Orde, president of the Association of Chief Police Officers, said he did not believe the low turnout weakened the authority of the commissioners.
"The individuals have been properly elected in a democratic process and the issue of numbers is absolutely not one for chief constables," he told BBC Radio 4's Today.
"What we will be looking forward to is working with these individuals to focus all our resources on keeping the citizens safe. It is as simple and as straightforward as that."
He admitted that it was "going to be quite interesting" to have ex-police officers of a lower rank in a position to hire and fire chief constables.
"I will watch that with interest," he added.
Conservative Katy Bourne, the new police and crime commissioner for Sussex, said people should look at the poor turnout at the first London mayoral elections in 2000 as an example of how voters' opinions can change.
She told BBC Radio Sussex: "If we look at the first mayoral elections in 2000, they had a historically low turnout.
"I think it was lower than the police elections yesterday, and yet now Londoners love the fact that they have a mayor and it has proven to be a great success."
SEE ALSO
David Cameron Defends Historically Low Voting For Police And Crime Commissioners