A volcano that featured as Mount Doom in Peter Jackson's Lord Of The Rings trilogy could erupt soon, say experts.
Mt Ruapehu in New Zealand is always active, but the country's Department of Conservation has issued a warning to climbers not to get too close.
Monitoring organisation GNS Science issued a "Volcanic Alert Bulletin" on Monday explaining that recent temperature readings indicate that the 2,797m (9,177ft) volcano could blow soon. Mt Ruaphehu is creating a stir in New Zealand
It said in a statement: "The temperature beneath Crater Lake is about 800C, but the lake itself only 20C. This suggests the vent is partly blocked which may be leading to a pressure build-up beneath Crater Lake. This means there is a heightened likelihood of eruptions over the coming weeks to months."
Duty Volcanologist Steve Sherburn said. "We think the pressure beneath Ruapehu Crater Lake has increased and this makes an eruption more likely.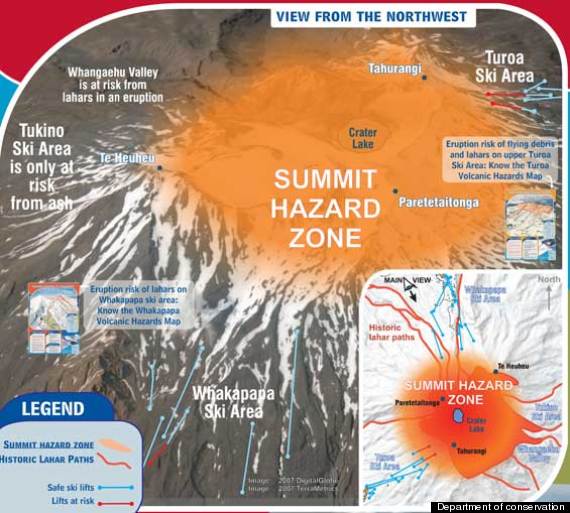 Danger area: Mt Ruaphehu's Summit Hazard Zone
"We are monitoring Ruapehu closely, but it often does not give any immediate warning that it is going to erupt."
The Department of Conservation recommended that climbers do not enter the Summit Hazard Zone, the area within two kilometres of the centre of Crater Lake.
A build-up of pressure beneath Crater Lake is thought to have caused the 2007 eruption and a smaller eruption in 2006. Tourist draw: The mountain attracts skiers and hikers