A new star is causing a stampede on the abstract art scene.
Asian elephant Karishma is being trumpeted as a pachyderm Picasso, with her latest masterpiece going under the hammer at online auction site eBay.
The fourteen-year-old animal, who lives at Whipsnade Zoo near Dunstable in Bedfordshire, created the piece by giving a colourful splash to a large wooden elephant.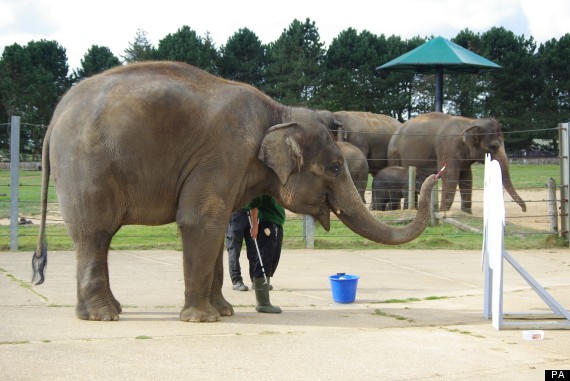 Karishma in action
It is the first time her work has been listed on the popular auction site, with bidding starting at just 1p.
Proceeds from the 10-day auction, which closes on November 26, will go towards helping to protect Asian elephants.
Karishma's keeper at Whipsnade Zoo, Elizabeth Becker, said: "Karishma really enjoys painting, and she's very talented at it.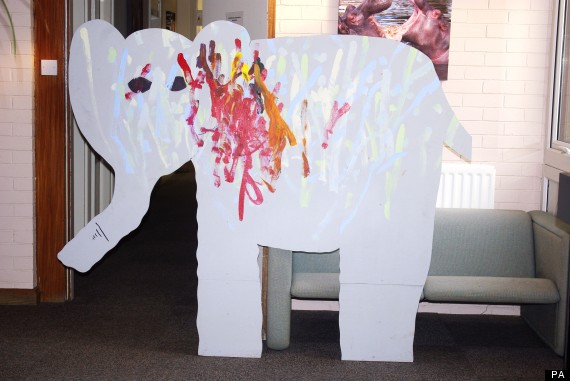 Karishma's painting
"It demonstrates just how dextrous elephants' trunks really are and we think the end results are pretty amazing, if a little abstract."
The art sensation's previous works already helped raise £10,000 for elephant conservation and research projects when they went on show last September.
There are thought to be just 1,500 Asian elephants remaining in the wild, with only 30,000 to 35,000 left in total.
Karishma isn't the first elephant to pick us an easel. In fact, just this September we learnt about Five, the 20-year-old African elephant from the West Midlands Safari Park in Bewdley whose work also sells on eBay.
Here's Five doing here thing:
Five, The Artistic African Elephant