A 6ft thug who punched a teenage girl in the back of the head and knocked her to the ground unconscious is being hunted by police.
The 16-year-old girl was followed from her home before being attacked without warning outside the Black Lion pub in High Street, Plaistow, east London.
Scotland Yard are appealing for information over the sickening attack and released footage of the incident captured on CCTV cameras.
In the footage a "black man of muscular build" is seen running up behind the girl before delivering a heavy right hook to the back of her head, knocking her unconscious and sending her face-first into the pavement.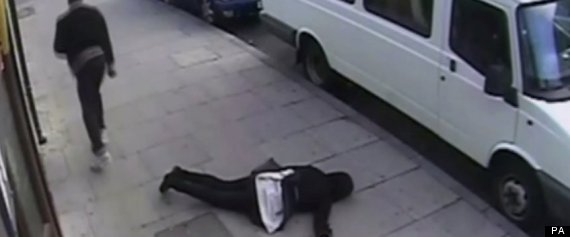 The girl is left lying on the floor after being punched by the assailant
The man, who was wearing a black baseball jacket and jeans, then turns and jogs off towards Green Gate Street.
The girl, who cannot be identified, told ITV's London Tonight: "I had a migraine, my chin was grazed and sore, my teeth were hurting because they were chipped and I couldn't talk.
"I hope he does get caught so he doesn't do it again to another person. I hope I am his last victim."
The suspect is described as a 6ft with a shaven head and aged between 25 and 30 and the attack happened at 12.30pm on November 13,
Anyone with information should contact Newham Violent Crime Unit on 020 8217 5890 or Crimestoppers on 0800 555 111.