Pressure group The Free Speech Network, which comprises UK and global newspaper publishers, has launched an advertising campaign warning of the dangers of press regulation on the day Lord Justice Leveson announced that the first part of his inquiry into the culture, standards and ethics of the press would be published on November 29.
The adverts, which have run in pages across Thursday's daily newspapers, highlight several scandals exposed by the British media, including MP's expenses, the recent Andrew Mitchell 'pleb-gate' affair, and the Stephen Lawrence murder suspects.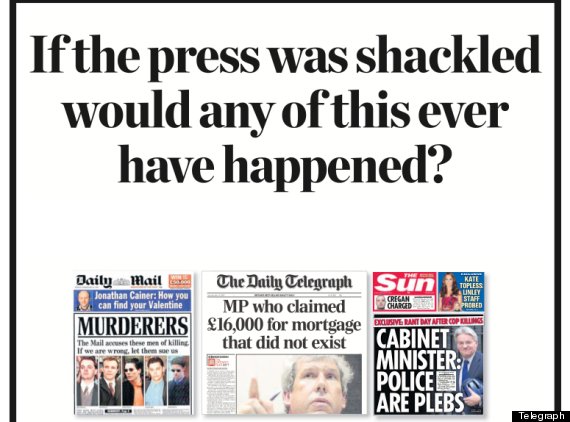 This advert ran in Thursday's Telegraph
One advert concedes that phone hacking was also a scandal, but reminds the reader that it was the press that exposed it.
In another, profile shots of six dictators, including Putin, Ahmadinejad and Mugabe, are shown under the headline: "These people believe in state control of the press. Do you?"
At the bottom of each advert runs the strap line: "Say no to state regulation of the press."
Many victims of the phone hacking have been vociferous in their demand to have the press shackled by state regulation, and have been encouraged by positive meetings with the prime minister and other party leaders.
However, several high profile politicians, including Boris Johnson, Michael Gove and George Osborne have publically stated their opposition to state regulation. Deputy Prime Minister Nick Clegg, Labour leader Ed Miliband and Culture Secretary Maria Miller are also known to be opposed.
David Cameron set up the inquiry in July last year in response to revelations that the News of the World commissioned a private detective to hack murdered schoolgirl Milly Dowler's phone after she disappeared in 2002.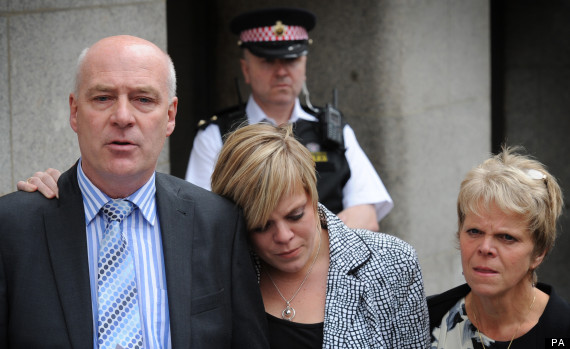 The Dowler family outside the Old Bailey last year
The first part, which started in September last year, looked at the culture, practices and ethics of the press in general.
Inquiry chairman Lord Justice Leveson will publish the report, which is expected to include recommendations for the future regulation of the British press, at 1.30pm next Thursday, followed by an "on-camera statement".
The report will be laid in both Houses of Parliament, the inquiry said, and will be available on its website once it has been laid in Parliament.
Lord Justice Leveson and his panel of advisors heard months of evidence - some explosive - from key figures including celebrities, lawyers, politicians and journalists.
Formal evidence started on November 14, 2011, and, according to its website, the inquiry sat for a total of 88 days up to and including June 30 this year.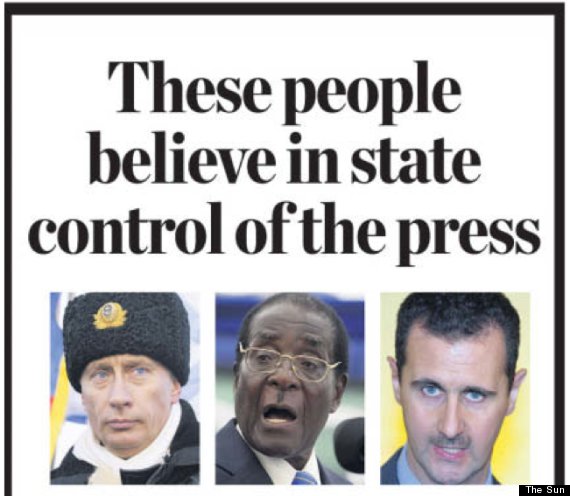 Putin, Mugabe and Assad featured in the advert in The Sun
The final report will reveal Lord Justice Leveson's recommendations for the future regulation of the British press.
Leaked details of private letters that Lord Justice Leveson wrote to newspaper groups were said to have revealed stinging criticism, with one source telling The Guardian the chairman had thrown the "kitchen sink" at the press.
As debates over possible outcomes from the inquiry have raged in the run-up to the publication of its report, the Prime Minister has been urged not to impose statutory regulation on the press.
READ: Leveson Inquiry By Numbers
Cameron has indicated he will implement any recommendations which are not "bonkers".
He, Clegg and Miliband told victims of press abuses on Wednesday, including Kate McCann and Chris Jefferies - who was caught up in coverage of the murder investigation of landscape architect Joanna Yeates - that they would "look favourably" on Lord Justice Leveson's proposals.
There are believed to be differences within the Government over whether that should include putting the press under statutory controls.
Education Secretary Michael Gove took a swipe at Lord Justice Leveson this week by suggesting he needs "lessons in freedom of speech".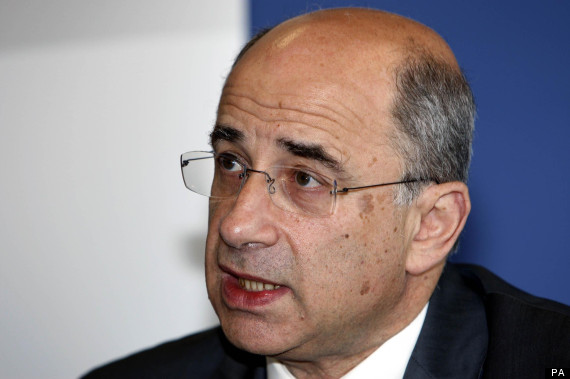 Leveson will publish the first part of his report next Thursday
Speaking at the Spectator magazine's parliamentary awards, Gove, a former journalist, compared the inquiry chairman with the Bureau of Investigative Journalism - which was behind the notorious Newsnight investigation that led to Lord McAlpine being smeared.
Referring to his own evidence at the inquiry, he said: "It's also a pity that His Honour Brian Leveson cannot be here so he could receive the Bureau of Investigative Journalism award for commitment to truth-telling for his wonderful comments - 'I don't really need any lessons in freedom of speech, Mr Gove, really I don't'."
The second part of the inquiry, examining the extent of unlawful activities by journalists, cannot begin until detectives complete their investigation into alleged phone-hacking and corrupt payments to police, and any prosecutions have been concluded.
Several people face charges relating to the phone-hacking scandal, which involves three investigations: Operation Elveden, examining alleged bribery of public officials; Operation Weeting, which is looking at allegations of phone hacking; and Operation Tuleta, an inquiry into accusations of computer hacking and other privacy breaches.
On Tuesday, the CPS announced that five people, including former spin doctor Andy Coulson and ex-News International chief executive Rebekah Brooks, are facing charges under Operation Elveden.
A senior counter-terrorism detective has already been charged as part of the investigation and is due to face trial in January.
Detective Chief Inspector April Casburn is accused of leaking information to the News of the World about the police inquiry into whether to reopen the investigation into phone hacking.
Eight people, including Coulson and Brooks, face charges under Operation Weeting, linked to an alleged conspiracy to hack phones.
The others are private investigator Glenn Mulcaire and five former News of the World journalists - ex-managing editor Stuart Kuttner, former news editor Greg Miskiw, former head of news Ian Edmondson, ex-chief reporter Neville Thurlbeck and former reporter James Weatherup.
They are all due to face trial next September.
So far, 18 people have been arrested as part of Operation Tuleta, but no one has yet been charged.