A man has been arrested after a teenage girl was knocked unconscious and left sprawled across the pavement in an apparently random attack near her home.
Shocking CCTV footage shows a man jogging up behind the 16-year-old and smacking her around the head.
The girl was left lying on the ground in Plaistow, east London, as her attacker casually jogged off.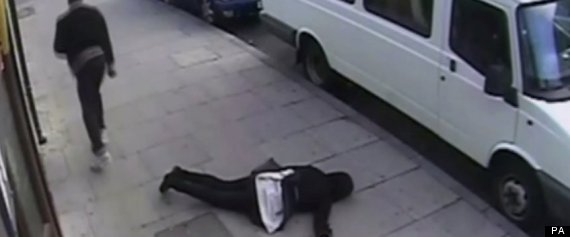 The girl is left lying on the floor after being punched by the assailant
A Scotland Yard spokesman said: "A man, aged 34, was arrested yesterday evening in connection with the assault of a 16-year-old female in High Street, Plaistow.
"He remains in custody at an east London police station."
The teenager is now recovering after the attack which happened outside the Black Lion pub at around 12.30pm on 13 November.
The girl, who needed work on her teeth following the assault, was said to be "bearing up really well".
She told ITV's London Tonight that following the attack: "I had a migraine, my chin was grazed and sore, my teeth were hurting because they were chipped and I couldn't talk."
Anyone with information can contact Newham Violent Crime Unit on 020 8217 5890 or Crimestoppers on 0800 555 111.
Comments on this entry are closed for legal reasons