Lazio could be charged for their fans' behaviour against Tottenham Hotspur for the second time this season if they are found guilty of chanting anti-Semitic songs during the clubs' Europa League tie at the Stadio Olimpico.
Home supporters chanted "Juden Tottenham" during the first half of the goalless draw, a day after Spurs fans were the victims of vicious attacks, with two men stabbed.
Uefa fined Lazio £32,500 for their fans monkey chanting at three Spurs players in the reverse fixture in September, and Tottenham' manager André Villas-Boas has implored the organisation to move swiftly to establish the facts.
"It will take another investigation," the Tottenham manager told a press conference.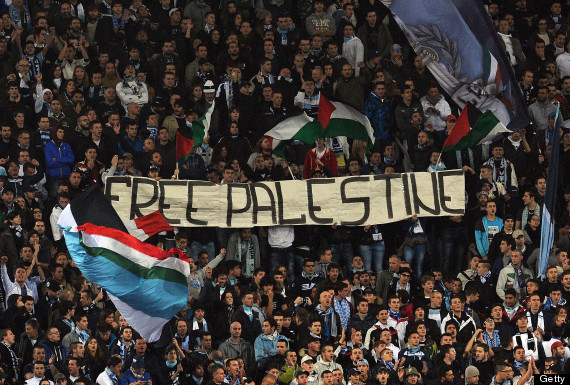 Lazio fans displayed a pro-Palestinian banner
"It happened last time and it was acted upon quickly by UEFA. We will have to wait and see if there is anything to act upon. If there is UEFA have to act."
The game had already been overshadowed before kick-off by the shocking and brutal attack on a group of the club's supporters early this morning.
Around 20 men burst in to the Drunken Sailor pub in Campo dei Fiori at around 1am and beat the fans with sticks and glass bottles. One fan is recovering in hospital after being stabbed in the head and leg.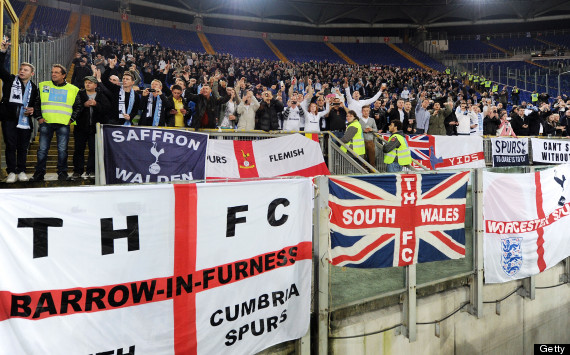 Spurs fans at the Stadio Olimpico
Villas-Boas expressed his disappointment at the attack tonight, saying: "It is an extremely difficult moment for them. We have to be aware there is a police investigation and I'm not in control of all facts.
"But there is massive disappointment and the fear they've gone through is hard. To point a finger at this point would be incorrect but (we) give them a message of support.
"As a club, we will try to help them overcome this."
Paul Gascoigne was paraded by Lazio for a lap of honour before the game.