Syrian activists say 10 children have been killed in Syria after a cluster bomb hit their playground - a weapon the pro-Bashar al Assad military has repeatedly denied using.
In an extremely graphic video posted on YouTube, the camera pans over the bloodied bodies of two girls, one in a knitted red jumper, another in a purple tracksuit, lying lifeless on the ground.
Two little boys are also filmed in the backseat of a car, with trails of blood along the pavement leading into the vehicle.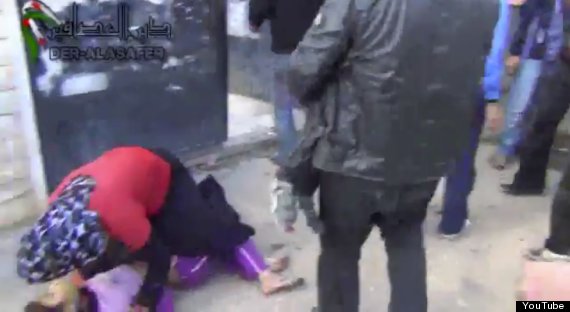 A still from the video which contains extremely graphic images of dead children
A shell-shocked woman in a blue headscarf kneels crying over the body of the little girl.
CNN translated one woman in the video cursing: "May god bring you pain Bashar.
The authenticity of the video could not be verified. The BBC said opposition activists had confirmed the children were killed when a MiG fighter bombed a playground in the village of Deir al-Asafir, east of Damascus.
"None of those killed was older than 15 years old," Abu Kassem, an activist in Deir al-Asafir told Reuters.
Another video shot in the aftermath of the attack purports to show cluster "bomblets", on the floor of the playground.
Kassem told Reuters more than 70 bomblets had been found in the village, which he swore did not harbour opposition fighters.
Human Rights Watch has repeatedly accused Syria of dropping cluster bombs on populated areas, particularly around the north-western town of Maarat al-Nuaman. A Syrian boy jumps over a pot hole on a refugee camp in Qah, near the northwestern Syria city of Idlib
But in a state television address, an army spokesman said it does not possess cluster bombs, and said the allegations were "baseless and part of a disinformation campaign".
"Some news outlets that are complicit in the bloodletting in Syria are publishing false reports," he said.
According to the BBC, an unverified report by the Local Co-ordination Committees (LCC), an opposition activist network, put the number of casualties across Syria on Sunday at 117, including 14 children.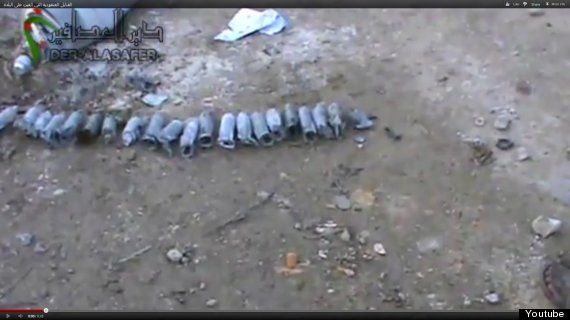 Cluster 'bomblets' filmed by opposition activists
In October, HRW published a report which linked the Syrian pro-Assad army to more than 35 cluster bomb sites, and videos and photos linked the Syrian air force to at least 46 cluster bombs.
"Syria's denial is meaningless as evidence mounts that cluster bombs are raining down on towns and villages," said Steve Goose, arms director at Human Rights Watch said in the aftermath of the charity's report.
"Syria's air force is imposing a reign of terror on civilians in rebel-held areas across the country with cluster bombs and other explosive weapons dropped from aircraft."