Dramatic pictures of a motorist being rescued from rising flood waters in Somerset capture the real risk caused by the torrential rain sweeping across the UK.
As forecasters warn Britons of further flooding, David Dunn from Keynsham in the South West, pulled a pensioner from the window of car after he had driven into deep flood water.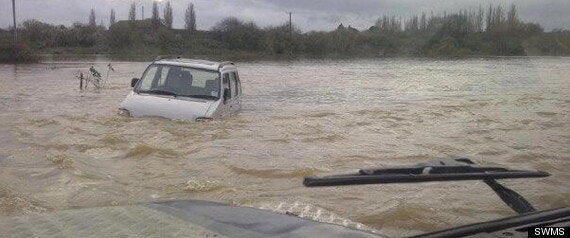 The man drove his landrover into the deeper water to rescue the motorist, who was in a smaller car
Although he was wet and shaken the man was fortunately otherwise unhurt but swollen rivers and falling trees have claimed the lives of three people after some regions saw the worst flooding for 70 years. Hundreds of flood warnings have been issued across the UK
Kevin Wilkinson, 50, was killed after falling into a canal on Saturday night, while a homeless 21-year-old, who is yet to be identified, was killed by a falling tree as she camped in Exeter city centre. Two other people were injured. Another man in his 70s was killed after his car was swept up in currents in Chew Stoke, Somerset. The man was trapped inside his car as the flood waters rose around him
Forecasters have predicted heavy deluges over the next 24 hours with up to 30mm expected in parts of North Yorkshire, Teesside and County Durham.
The water level in large rivers - in particular the Thames - will continue to rise over the next few days, the Environment Agency (EA) warned. The car is swept away by flood waters after the man is rescued
Around 900 properties have flooded since Wednesday and the agency has issued more than 93,000 warnings to households in the past few days.
Paul Mustow, of the EA urged householders to remain especially vigilant. He told the Press Association people should "stay away from dangerous flood water."