Chelsea chairman Bruce Buck has met referees, including Mark Clattenburg, in a bid to clear the air after the match official was exonerated of racially abusing John Obi Mikel.
Buck is believed to have met all 16 members of the select group of top referees at the St George's Park national football centre near Burton yesterday.
The meeting was at the request of the match officials, who wanted to hold talks with Chelsea following the Football Association's decision last week to clear Clattenburg of a complaint by the club that he had allegedly told midfielder John Obi Mikel "shut up you monkey".
Clattenburg will referee his first match since the case tomorrow night when he takes charge of Southampton versus Norwich City. The 37-year-old was the fourth official at White Hart Lane on Sunday for the match between Tottenham and West Ham United.
The meeting with Buck should now enable Clattenburg to officiate at matches involving Chelsea in the future.
On 28 October Chelsea claimed Clattenburg had used "inappropriate language" towards two Chelsea players, Juan Mata and John Obi Mikel.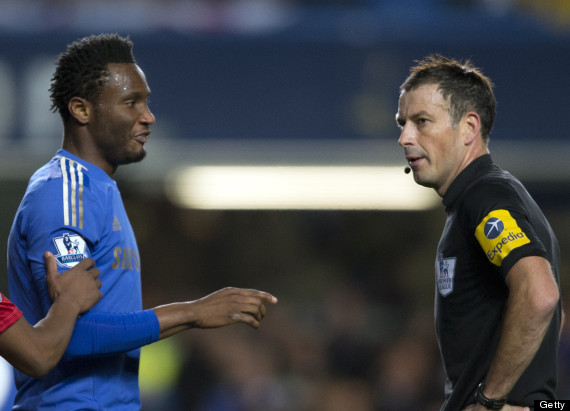 Mikel has been charged for using "threatening behaviour" towards Clattenburg
The complaint was made two hours after their first Premier League loss of the season to Manchester United at Stamford Bridge, in which Branislav Ivanović and Fernando Torres were both sent off for the Blues. Javier Hernández's winner was scored from an offside position.
Although the Mata allegation was dropped Chelsea sent a report to the FA days later claiming Clattenburg had called Mikel a 'monkey' during the match.
Ramires told the Nigerian of what the County Durham official apparently said and Mikel angrily confronted Clattenburg at full-time. He has since been charged for his behaviour.
And the FA concluded last Thursday Brazilian Ramires, who still conducts interviews with the aid of a translator, had misinterpreted what Clattenburg had told Mikel.