Another disturbing photo has emerged of a football fan apparently making a monkey gesture towards West Bromwich Albion striker Romelu Lukaku during the club's Premier League win at Sunderland on Saturday.
Lukaku is photographed celebrating after scoring West Brom's third goal of the match only to be met with a sickening taunt by a disgruntled Sunderland supporter. Northumbria Police confirmed they have opened inquiries into the incident, but no arrests had been made at the time of writing.
Show Racism the Red Card (SRtRC) chief executive Ged Grebby said: "We welcome the news that Sunderland AFC and Northumbria Police have announced they will investigate this.
"We are confident at SRtRC that this was an isolated incident and that the campaign to rid football and society of racism is working well." The incident comes in the same weekend a section of West Ham United fans aired anti-Semitic chants at Tottenham supporters.
Some made Nazi salutes and hissing noises - mimicking the gassing of Jews in the Holocaust - as well as singing Adolf Hitler chants.
And last month a Chelsea fan Gavin Kirkham was arrested after he allegedly made a monkey gesture during the Blues' League Cup win against Manchester United.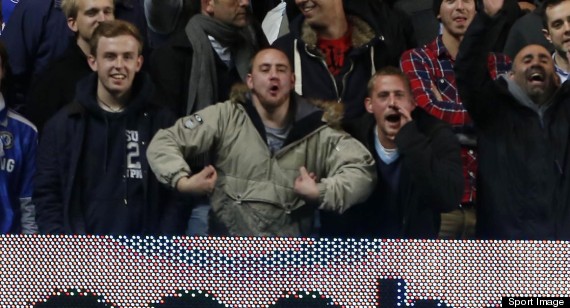 Kirkham at the United game on 31 October
The 28-year-old has since been banned from Stamford Bridge.
Liverpool fan Phillip Gannon was found guilty of racially abusing Patrice Evra during the Reds' FA Cup tie with United in January this year.