A body has been pulled from a flooded home after a river reached record levels and burst its banks.
The elderly woman was found dead in the beleaguered Welsh city of St Asaph where hundreds of people have been urged to flee their water-logged homes. Flood waters come close to covering houses in St. Asaph, Denbighshire, North Wales
Her body was discovered at midday after the River Elwy surged through flood defences as the wet weather continued to wreak havoc across the country.
Next of kin have been informed, North Wales Police said.
A spokesman said: "North Wales Police can confirm that the body of an elderly woman has been recovered from a flooded property in Tair Felin, St Asaph, Denbighshire.
"Local officers from the emergency services who were conducting house to house checks discovered the body of the woman at noon today."
Officers said there were no suspicious circumstances and have launched an investigation into her death, which is being treated as unexplained.
Another three people have died since the latest bout of wet weather struck.
Figures show that around 960 properties have flooded since last Wednesday and around 900 people have left their homes.
A further 500 people living in St Asaph were encouraged to pack their bags today and move in with friends or family until the risk subsided.
The Elwy, which was still rising this afternoon, has reached a record high of 14ft 3in (4.35m) at St Asaph, making it more than 3ft (1m) deeper than its previous record of 11ft 4in (3.47m) in November 2009.
Typically, the river level at this spot varies between 3ft (0.90m) and 6ft 7in (2.02m).
The Environment Agency has issued two severe flood warnings in Wales - one for St Asaph - indicating a potential danger to life.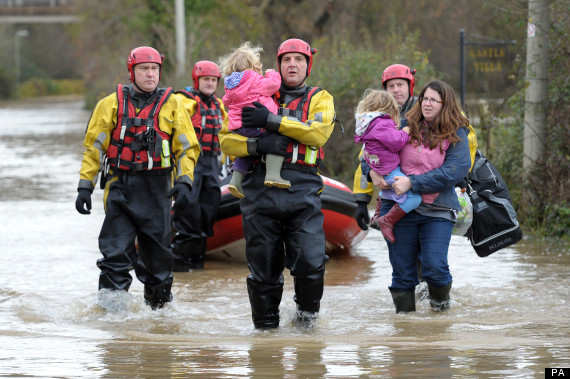 Crew Commander from Tewkesbury fire station Dave Webb carries 19-month-old Beth with her mother Tina Bailey carrying her three and a half year old sister Hannah, after they were rescued from their house in Gloucester
A 92-year-old local man was rescued by British Red Cross volunteers earlier today after he became trapped in his house as flood waters rose in the city on Monday night.
Although forecasters have offered some hope of respite - with rain predicted to ease off - the Environment Agency (EA) warned of a continued flooding threat across north east England, North Wales and Northamptonshire.
River levels are set to peak in the next 48 hours, putting further properties at risk, with the Thames, Trent and the Severn deemed to be of particular concern.
David Cameron met householders in the village of Buckfastleigh, Devon, which was struck by flash flooding at the weekend.
Cameron also visited recently-built flood defences on the River Dart, which have helped protect the local area from worse flooding.
The Prime Minister defended his Government's record on providing flood defences despite a cut in the budget.
"We are spending over £2 billion on flood defences over the current four-year period, which is 6% less than was spent over the last four years," he said.
"But as well as that, we are actually encouraging private and other money into flood defences and making sure they are more efficient as we build them.
"I am quite convinced we are going to provide flood defences for another extra 145,000 homes over the period ahead and that's very important."
John Curtin, of the Environment Agency, said the deluge would continue in the coming days: "Further flooding is expected in the next few days and communities across the country, particularly in north-east England, North Wales, Northamptonshire, are urged to remain especially vigilant."
The Environment Agency has 227 flood alerts and 183 flood warnings in place in England and Wales.