A website offering to arrange financial "sponsorship for scholars" in return for sex has renewed questions over whether higher tuition fees are driving students into prostitution to make ends meet.
Sponsor A Scholar offers cash-strapped females the opportunity to find a male "sponsor". The sponsor will then hand over a minimum of £5,000 in return for illicit hotel meetings with the student.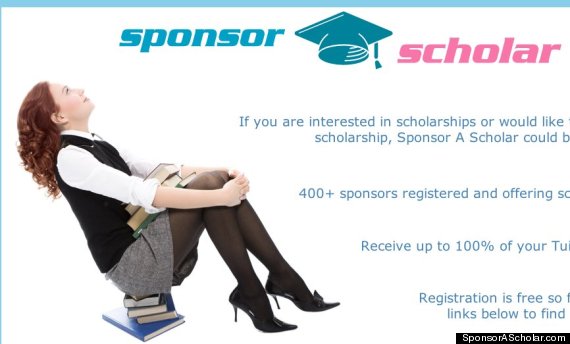 The site matches up wealthy businessmen with young women in exchange for "private meetings"
Students can earn a minimum of £5,000 per academic year, while the maximum scholarship on offer is £15,000. The site states its sponsors range from 28 years old to 50, who "want to have discreet adventures with a student whilst helping them fund their studies through a scholarship".
A female escort, who uses the alias Kitty, revealed she was approached by a man claiming to be "directing marketing" in a one-off for the website.
According to Kitty, she was told the "sponsor" pays the company before meeting with the student. Only once the student has met with the client do they receive their tuition fee money.
The Huffington Post UK registered with the site under a pseudonym and was told by the "principal assessor" there was an interview waiting list of two to three weeks.
We were told: "I note from your registration form you have a preferred interview location of Central London, if there are any other locations which are suitable for interview then let me know as I may be able to fit you in sooner."
The email continued: "It is important to stress Sponsor A Scholar does not stipulate what should occur between two consenting adults in a hotel room, but based upon the considerable sums of money are [sic] sponsors are offering, they tell us they have expectations of a level of sexual intimacy with their chosen student."
He then adds his company offers a £250 referral fee for promoting the site to friends.
We then received another email, this time from Emma Forester, who calls herself "principle [sic] admissions secretary".
She said: "You have been assigned to one of our most experienced assessors. [He] has been with us since the beginning in 2006 and in that time he has helped over 400 students to join and find the right sponsor through us."
The website not only claims to have provided 1,400 scholarships since its start-up but also does not appear in search terms before 2012. Domain search tool Whois shows the site was registered on 20 January 2012, under the name of an academic at the London School of Economics.
The professor, whose identity HuffPost UK has agreed to withhold, has insisted he has been the victim of a hoax.
He released a statement saying: "I have been made aware of a website that was registered using my name and an old address of mine. I have not registered this or any other internet domain and have no connection with the business that is being operated from this site, or with the person using my name. I have reported this matter to the police."
Students who sign up to Sponsor A Scholar are committed to meeting their sponsor between one and four times a term, with the meetings "always" taking place in a private place "such as a hotel". The site adds:
"The exact number of meetings per term, together with the duration and the level of sexual intimacy expected will form the basis of the scholarship agreement. Sponsor A Scholar UK will arrange an introductory meeting in a suitable public place which will allow you to get to know your sponsor and agree the finer detail of the scholarship package such as the level of sexual intimacy you are comfortable with.

"Typically meetings last anywhere between 1 and 2 hours. We would hope that all our members are too busy enjoying their encounter to be watching the clock!

"Safe and discreet encounters with the knowledge that you are funding your studies or helping someone to fund their studies through a scholarship, how can that not be fun?"
"Sponsor A Scholar is not responsible for what occurs between consenting adults in a hotel room."
An undercover investigation by the Independent revealed had attempted to lure students back to a flat in order to conduct a "practical assessment".
He told the newspaper's reporter: "[We] make sure you that you're comfortable to do that, to... get an idea of what your first meeting with the sponsor will be. We have to... make sure when we put you in front of your sponsor you're confident in doing the things you said you would do.
"The more you're prepared to do the more interest you're going to get."
Another search revealed it had linked itself to dating website Match.com.
The site is registered to an "office" in Stoke Newington, with the address appearing to be a house on a residential street.
A spokesperson for Match.com denied any involvement with Sponsor A Scholar: "The website is not affiliated with Match.com in any way and we are in the process of contacting them to legally require that all references to Match.com are removed immediately."
The site has raised concerns as to whether students are turning to sex work to fund their way through university.
Mark Wakeling, director of Beyond the Streets, a charity working to end sexual exploitation, spoke to The Huffington Post UK about the dangers of sugar-coating prostitution.
"Websites such as Sponsor a Scholar are a worrying development and are in danger of creating an impression that selling sex is an easy way to raise money," he said. "The many women we have spoken to have numerous stories of how prostitution ruined their lives and that they would make different decisions with hindsight.
"Businesses who profit from suggesting an easy income with little cost are acting irresponsibly and ignore the reality behind the vulnerability that prostitution often creates. Slick publications airbrush out the harm and promote an idea of there being little risk.
"Students need to be aware of the real dangers involved in such schemes and the longer term impact which cannot be edited out."
Although they are entitled to loans to cover the cost of tuition fees, which for many now amount to £9,000 a year, students are taking more "dangerous measures" to pay for university.
Last year, Estelle Hart, the then National Union of Students' women's officer, warned higher fees and cuts to the education maintenance allowance are driving students to the streets to pay for their studies.
"They [ministers] know the cuts they're making are driving women into things like sex work. It's a survival strategy so we would hold the government responsible for that."
A spokesperson for the Metropolitan Police said the force had not received a criminal complaint about the site but a civil complaint had been lodged.
The Sponsor A Scholar site has since been removed and now states it is undergoing maintenance.