An activist has written an open letter to Kim Kardashian, inviting her to meet with human rights defenders in Bahrain.
Maryam Alkhawaja has implored the reality star to use her celebrity to highlight the country's "deplorable" human rights violations.
Kardashian will be in the country to launch a new Millions Of Milkshakes franchise, following a similar venture in Kuwait (scroll down for video).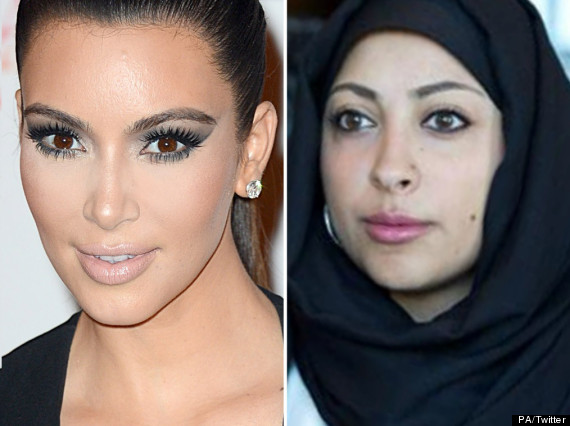 Kim Kardashian (left) has been invited to meet with human rights defenders in Bahrain by Maryam Alkhawaja, Acting President of the Bahrain Centre for Human Rights (BCHR)
Bahraini MPs who describe the 32-year-old American as having a "bad reputation", failed to push through a resolution preventing her visit to the Gulf country.
But Alkhawaja, who is Acting President of the Bahrain Centre for Human Rights (BCHR), wants Kardashian to use her trip to bring more than milkshakes to the media's attention.
In her letter she writes:
"The revolution in Bahrain began on 14 February 2011, and for the past two years the struggle for human rights and dignity has been faced with a violent crackdown. Although not everyone may have heard of the revolution, Bahrain is well known for its Grand Prix and the Bahrain International Air Show. This is because the government of Bahrain want you to believe that the country is merely the home of exciting business opportunities and a modern, new Middle East. No matter how they spin it, Bahrain has had at least 84 people killed since February 2011 and more than 80 children arrested in just the past several months. People have even been arrested for things they've said on Twitter. I don't know about you, but I'd hardly call that modern."
She invites Kardashian to come good on her promise to meet with "local leaders" and learn about human rights violations which have been "largely ignored by the international community."
She adds:
"Given your fame, it is impossible for your trip to remain apolitical. This is because it will be used to demonstrate to the international community that everything in Bahrain is fine. We can assure you that unfortunately everything is not fine, and that your celebrity status is likely to be used in order to distract the global public from Bahrain's human rights violations."
Alkhawaja is the daughter of Abdulhadi Al-Khawaja, an activist who was sentenced to life imprisonment for reportedly trying to depose the ruling Sunni royal family.
Amnesty International says human rights violations are continuing in the Gulf kingdom despite government promises that the country is on the road to reform.
In a recent report, the campaign group said security forces were still using excessive and unnecessary force against anti-government protesters.
The charity also said it was receiving ongoing reports of the torture and ill-treatment of demonstrators, who have been involved in ongoing clashes with police.
SEE ALSO: Bahrain Authorities Investigate After Video Shows Police Beating Up Protester
It feels unfair to write off Kardashian's diplomacy skills just yet, but lets not forget the Twitter storm that erupted after she waded into the Israel-Palestine conflict.
She was forced to apologise for offending some of her near 17 million followers after tweeting about the ongoing conflict.
Kim had written on the social networking site, "Praying for everyone in Israel".
But angry Twitter users hit back at her apparent pro-Israel stance, she later added: "Praying for everyone in Palestine and across the world!".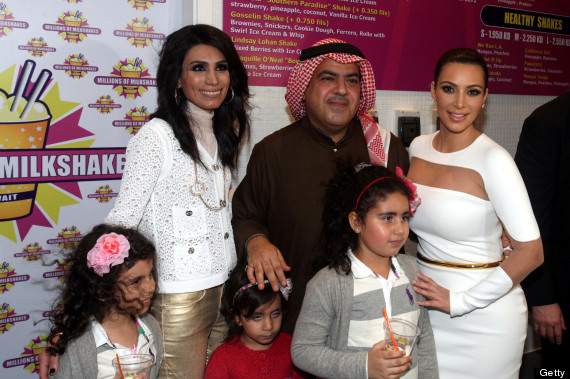 Milking it: Kim Kardashian at the Millions of Milkshakes launch in Kuwait
She later deleted the tweets, and posted a statement saying she wanted to 'own up' to publishing them.
"I want to own up to and explain that earlier today I sent out two tweets about saying prayers for the people in Palestine and Israel and after hearing from my followers, I decided to take down the tweets because I realized that some people were offended and hurt by what I said, and for that I apologise," she wrote.
"I should have pointed out my intentions behind these tweets when I posted them. The fact is that regardless of religion and political beliefs, there are countless innocent people involved who didn't choose this, and I pray for all of them and also for a resolution. I also pray for all the other people around the world who are caught in similar crossfires," she added.