David Cameron's sketch of sheep with the words 'THINKING OF EWE' written underneath may seem a rather basic offering from the leader of Great Britain but it's going under the hammer to raise funds for the Eden Project.
The prime minister had 50 copies of the woolly sketch printed to send to charities for fundraising, merely confirming many people's long-held suspicions that Cameron is full of sheep.
The online auction, which takes place between 6 and 16 December, is based on the theme of inspiration.
One might think Cameron would have sketched a lovely chestnut horse. LOL.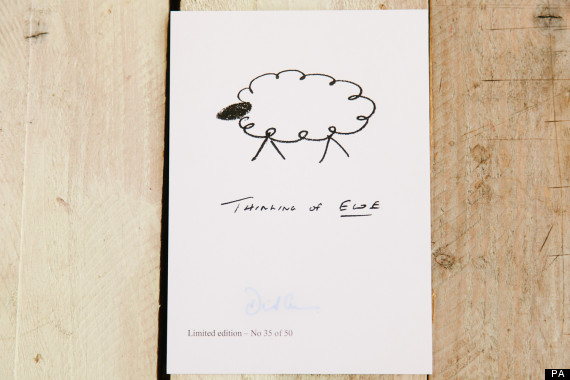 Cameron's doodle for charity: Participants in the auction were encouraged to share something that inspires them
Would you pay for Cameron's sheep doodle? Or if you were the Eden project would you merely say 'Thanks For Mutton.'
EWE can also stand for Eject With Explanation, in perhaps a frustrated reference by Cameron to his coalition partners.
Other quirky collectables up for auction include lyrics from the musical Evita signed by Sir Tim Rice, a piece by eminent artist Kurt Jackson, a visionary sketch of the future by Joanna Lumley, James Wong's childhood gardening book and artwork by singer-songwriter Seth Lakeman.
As the Eden Project came into existence with the help of a drawing on a napkin and a spark of inspiration, the charity asked famous faces and organisations to show what inspires them, through a drawing, a favourite book or a memorable experience.
There are also special experiences on offer, such as wine tasting for six people at the historic London wine merchants Berry Bros, a spa day at Cornwall's Fowey Hall Hotel and a private chocolate and chilli tour for two at Eden.
Sir Tim Smit, co-founder of the Eden Project, said they were looking for supporters to "share something that inspires them" for the online auction.
The auction will raise money for a range of Eden projects, from working with school, college and university students that visit each year, to engaging with socially-excluded young people and helping community gardening groups to flourish.