Bookmakers will be taking flurries of bets on what the Duke and Duchess of Cambridge will choose to call the eagerly anticipated new Prince or Princess.
Speculation as to what they might name their first child began even before Kate was pregnant with predictions posted ranging from Mary and Matilda to Edmund and George on the mumsnet website before their wedding.
Their decision - be it traditional or unusual - will most likely set a trend for the next generation of babies.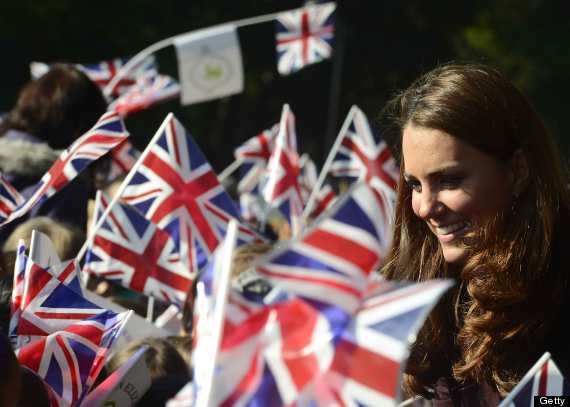 The Duke and Duchess of Cambridge's baby will be born third in line to the throne
Royal youngsters are mostly given safe, historical names which are passed down through the monarchy such as James, Edward, Charles, George, Mary and Elizabeth.
William and Kate will also be mindful of choosing a name that befits a future King or Queen. This royal baby will be born third in line to the throne.
If Kate gives birth to a girl, many will expect the Duke and Duchess to pay homage in some way to William's late mother Diana, Princess of Wales, as well as to the Queen.
Likewise, the arrival of a boy could see a tribute to the Duke of Edinburgh, the Prince of Wales or even Prince Harry. But the Cambridges are also likely to take inspiration from Kate's side of the family.
Royal children often boast an array of middle names - William's own being Arthur Philip Louis - so the couple are likely to pick several - offering them the chance to include a nod to both sets of relatives.
They also might incorporate a Welsh name to reflect their links to Wales, a name with historical connections to the city of Cambridge or perhaps something Scottish to represent the time they spent together in St Andrews.
Linda Rosenkrantz and Pamela Redmond Satran, the authors of Cool Names for Babies, already have their predictions on the babyzone website - posted before Kate was even pregnant.
Suggestions include Alice (the name of Queen Victoria's second daughter and also the Duke of Edinburgh's mother), Amelia (George II's second daughter), Dorothea (meaning gift of god) and Charlotte (wife of George III) for a girl and Augustus (George II's middle name), Frederick (a son of George III) or Leopold (a son of Queen Victoria).
If the baby is boy, he would be expected to be styled a Prince and if the baby was a girl, a Princess.
The last example of a great granddaughter of a still serving Sovereign born on the male line was Princess Mary, who was born in 1897 and was George VI's sister and a great granddaughter of Queen Victoria.
As to the child's surname, according to the monarchy's official website: "For the most part, members of the Royal Family who are entitled to the style and dignity of HRH Prince or Princess do not need a surname, but if at any time any of them do need a surname (such as upon marriage), that surname is Mountbatten-Windsor."
In 1917, George V adopted Windsor as the royal family's House and surname. In 1960, for the direct descendants of the Queen and the Duke of Edinburgh who require a surname, it became Mountbatten-Windsor. Mountbatten was the surname Greek-born Prince Philip assumed when he became naturalised in 1947.
William has used Wales professionally in the forces. His children might use Cambridge in the same way, or even Wales too as William still retains his title Prince William of Wales.
If a boy, the baby is also likely to one day be Prince of Wales. The title is usually given to the male heir to the throne, but it is not automatic.
Bookmaker William Hill said it will pay out a "small five-figure sum" after many people betted on a 2013 royal baby.
Speculation is rife over whether the Cambridges will have a boy or a girl, and what they will name their first born.
Odds are 10/11 for a boy and the same for a girl. Favourite names are Frances and John, both at 9/1, while Charles, Victoria and George are 10/1.
Spokesman Joe Crilly said: "We fully expect that the betting public will get involved in speculating what the baby will be called.
"When William and Catherine got married we were bowled over by a million pounds worth of bets and we predict similar levels of excitement before the birth of their first child."
William Hill is even offering odds on the colour of the newborn's hair - 6/4 brown, 2/1 blonde, 5/2 black, and 8/1 ginger.
Odds for other names include Anne, Diana, Phillip, Richard and Spencer at 12/1; Mary, Henry and Sarah at 14/1; Carole, William and Edward at 16/1; Alice, David, Victoria, Albert and Arthur at 20/1; and Elizabeth at 25/1.
What do you think the baby's name will be? Let us know your suggestions in the comments below