If you, like us, love all things Christmassy, then make sure you pay a visit to the magical Lapland UK this festive season. Opening its doors to "Big Folk" and "Little Folk" alike (providing you've got your "passport") it offers visitors a real Christmas treat. Set in the woodlands of Bewl Water, Kent, it is fast becoming the established UK home of Father Christmas.
To say that our children were excited as we journeyed down the M25 is an understatement. As we entered the snowy wonderland, led by an assortment of bubbly elves, the magic truly began. Our children were given the opportunity to help Santa's elves in the toy factory and to make teddy bears, followed by decorating gingerbread with Mrs Christmas.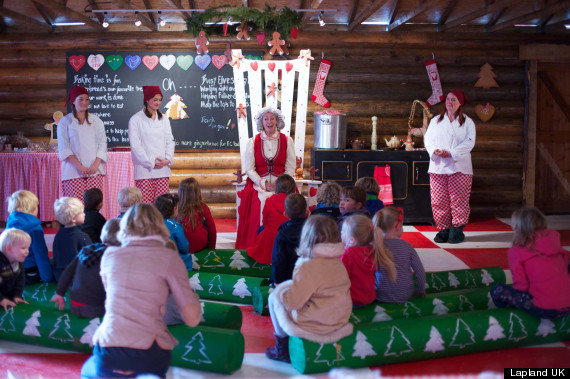 Children listen to Mother Christmas as she reads them a story
Each activity was held in wooden cabins, which we were led to through snowy forest walkways, all perfectly laid out. We then had the opportunity to get some refreshments in the central square, before the children made a dash for the ice skating rink. Our three-year-old spent most of his time skating with his penguin, whilst we watched from the sidelines cheering him on.
It was one of those crisp winter, blue-sky days. We met real huskies, Santa's reindeers, and had a warming hot chocolate before browsing the Christmas shop. Then the highlight of the day - meeting Father Christmas
As an enthusiastic elf showed the way, the children became even more excited. We were led through a snowy walkway, and then waited patiently for our names to be called so we could meet the great man. Santa revealed his inside knowledge of our children's likes and interests, while his gift of a beautiful husky toy hasn't left our eldest son's side since he got it.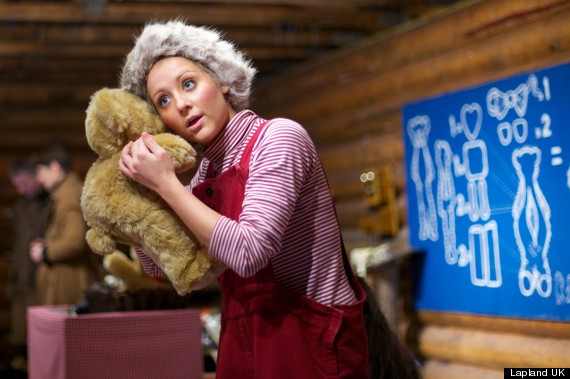 One of Santa's helpers inside his toy factory, where the children make soft toys
It was truly magical day, if a little pricy. Still, if you want to kick off the festive season in style, with an experience your children will never forget, then it is definitely worth the outlay.
Mike Battle, MD of LUK Events who runs LaplandUK said:
"We are delighted to be staging LaplandUK at Bewl Water again this Christmas. We've had a very busy first weekend, and its great to see so many returning families as well as lots of new visitors. Six years ago my wife and I had the dream of creating a truly magical Christmas experience for children and it's great to see that the public 'believe in the magic' too. We look forward to welcoming many more visitors between now and Christmas Eve."
LaplandUK is open until Monday 24 December, with tickets available from www.laplanduk.co.uk
Watch the video below: