A students' union officer has been given the boot two months after tweeting jokes about missing toddler April Jones and the victim of suspected paedophile Jimmy Savile.
Joey Guy was education officer at the University of Central Lancashire (UCLan) when he posted the tweets, prompting outrage both from students at the university, and members of the public.
It has now been revealed Guy was sacked on Thursday evening at a monthly student council meeting, the independent student paper Preston Messenger reported. The university has also confirmed Guy's dismissal.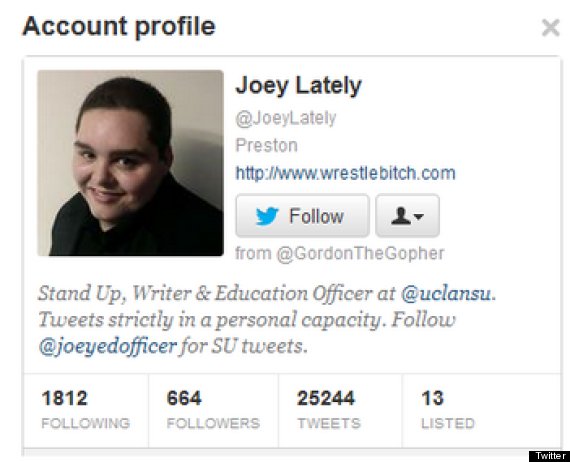 Guy's Twitter personal account, which has since been deleted.
Guy wrote an article for UCLan's student newspaper about the hunt for April just days prior to posting the "joke", which crudely referred to suspect Mark Bridger and the missing girl. Bridger was later arrested and charged for the murder of the five-year-old.
He also focused his comedic twitter attentions towards Jimmy Savile and the late disc jockey's alleged victims.
Faye Grima, a UCLan student and co-founder of the Preston Messenger, told HuffPost UK:
"I definitely think this was the right decision to sack Joey Guy. As an elected representative it was his duty to represent the students who elected him and the offensive tweets made a mockery of both his position and the university.
"The students have been waiting for the decision for nearly two months which has caused friction between the students and the union as a whole, further creating an unnecessary divide between students and their elected representatives."
"The union have made a mess of this situation and I hope it never happens again."
Guy's antics caused a stir amongst journalists at Pluto, UCLan's student paper, who reported being gagged by SU president Edward Graham-Hyde.
Students told HuffPost the story had been buried on page 11 in an "other news" section, despite previously having been scheduled to appear on page four.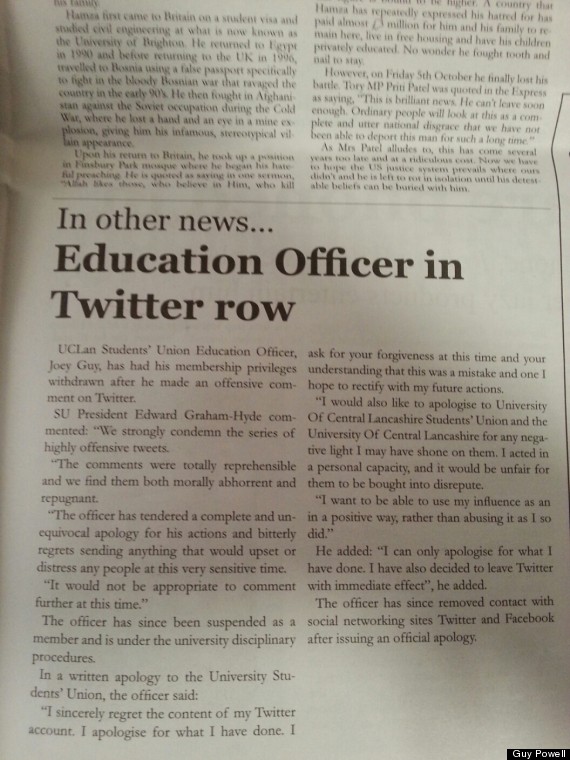 The story as it appeared in student newspaper Pluto.
Journalism student Dewi Powell criticised the decision and questioned the paper's independence but Graham-Hyde publicly addressed concerns regarding Pluto on Twitter:
UCLan union officers issued a gagging contract shortly after, forcing student journalists to agree not to speak to outside media. As a result, several reporters left Pluto.
Read Dewi Powell's blog on UCLan Student Union's interference with the student newspaper
Powell, a UCLan student, told HuffPost UK: "Joey Guy may only have had a few hundred votes but his position represents and is responsible for 30,000 students. The number isn't important but if Guy understood what he did was wrong and felt any duty to any of those students then he would have resigned.
"Guy basically wrote his own resignation when he Tweeted the 'joke', his judgement of what's acceptable made his position as an elected representative untenable.
"The Students' Union's, led by the Student Affairs Committee, responses to genuine questions has caused an almost unbreakable divide between the union and a section of students, this was completely avoidable if the union had handled the situation with maturity, professionalism and in the interests of their members."
Graham-Hyde released a statement saying Guy had been sacked after failing to "meet the reasonable standards of conduct expected of him".
"In posting the offensive material on Twitter on 4th October Joey Guy did not faithfully carry out his duties. As a consequence of his actions the Union's reputation has been brought into disrepute and this constitutes gross misconduct in relation to the duties and responsibilities of an elected officer."
Comments have been removed for legal reasons