Greetings card company Hallmark has apologised for the distribution of a birthday card that encourages teenage girls to snag rich husbands by using their bodies.
The card was spotted by @CheesyHel in her local newsagent in Hertfordshire last week, while looking for a card for her niece.
In a statement, a spokesperson for Hallmark Cards said the company was "surprised and horrified" to discover there are still copies of a card, which has not been produced for 15 years, in circulation.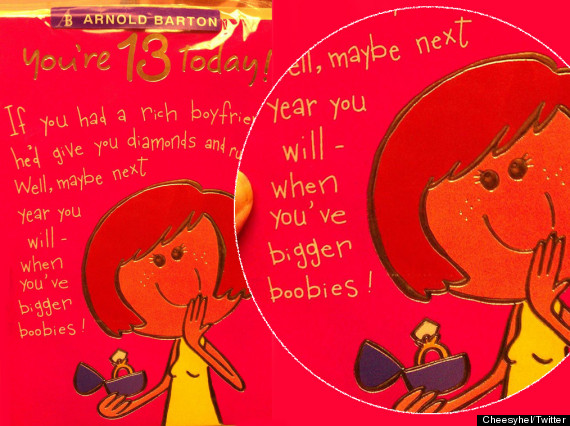 The message reads: "You're 13 today! If you had a rich boyfriend he'd give you diamonds and rubies. Well, maybe next year you will - when you've bigger boobies!"
HuffPost UK Lifestyle spoke to @CheesyHel about the card, which went viral on Friday when it was Tweeted by American novelist Maureen Johnson.
"I was looking for a card for my niece in my town with my partner and he picked up that one and was shocked.
"I thought that it was very inappropriate," she told HuffPost UK Lifestyle.
Maureen Johnson criticised Hallmark for publishing a card for 13-year-old birthday girls containing such potentially harmful messages regarding female body image.
Hallmark UK has since issued an apology for the card:
"This card was printed over 15 years ago by Arnold Barton before Hallmark UK acquired that brand. This card has not been reproduced since and we are surprised that a copy was still available for purchase in a retail store. We agree the card is not appropriate; we apologize on behalf of Arnold Barton and will do our best to track down any copies remaining in circulation."
Natasha Devon, co-founder of Body Gossip, a campaign that promotes natural, healthy and realistic beauty among young people, told HuffPost UK Lifestyle that she found the card damaging and outdated.
"This pathetic attempt at humour reveals a couple of deep-rooted notions which, worryingly, continue to prevail in our society.
"Firstly that one should rely on a man financially and that to do so is some sort of achievement. Secondly that in order to do so one must conform to a desired body shape."
She added: "It's the sort of attitude you might expect during Jane Austen's era."
HuffPost UK blogger and eating disorder campaigner Nick Watts said that over-exposure to sexualised messaging can lead to serious body image issues later in life.
"These messages only reinforce the delusion that to get anywhere in life you have to look a certain way," he said. "Not only do sexualised images make young people question their bodies at earlier ages, but can cause them to develop negative thought patterns about their bodies which can lead to more serious issues."
Twitter Responds To 'Bigger Boobies' Card
LIKE HUFFPOST UK LIFESTYLE ON FACEBOOK | FOLLOW US ON TWITTER
Update: Please note this story has been updated to include latest response from Hallmark and remove the poll.