Treatment of advanced prostate cancer could be set to change after the early publication of significant new trial results.
Doctors testing the pioneering hormone drug abiraterone found that it doubled the time taken for the disease to progress in men not yet on chemotherapy.
Abiraterone is already approved as a "last resort" treatment for prostate cancer that has stopped responding both to hormone therapies and the chemotherapy drug docetaxel. The new findings mean that in future it could be made available to a much larger group of patients.
Scientists halted the trial after an interim check in December last year found that men unknowingly taking abiraterone were doing much better than "control" patients not receiving the drug. The trial had been running for about a year. For ethical reasons, all the 1,088 participants are now being treated with abiraterone.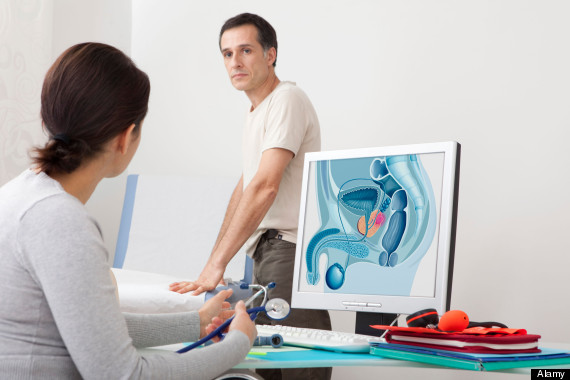 Prostate cancer not cured by surgery or radiotherapy is generally treated with therapies that stop tumour growth being fuelled by the male hormone testosterone.
Eventually, tumours become resistant to this treatment. Patients can go on to receive chemotherapy but this too proves ineffective in the end.
Abiraterone, developed at the Institute of Cancer Research in London, is a different kind of hormone therapy that works even in patients who are treatment resistant.
In May the National Institute for Health and Clinical Excellence (Nice), which vets new treatments for cost-effectiveness, recommended that abiraterone should be available on the NHS in England for prostate cancer that no longer responds either to standard hormone therapies or docetaxel.
But this excluded men who had not yet reached the stage of having to undergo toxic chemotherapy.
LIKE HUFFPOST UK LIFESTYLE ON FACEBOOK | FOLLOW US ON TWITTER
The new Phase III trial results, published online in the New England Journal of Medicine, showed that men taking abiraterone lasted an average 16.5 months before tumour growth could be detected by a CT or magnetic resonance imaging (MRI) scan. This was twice as long as the 8.3 month progression time for men in the placebo group.
Study leader Professor Johann de Bono, from the Institute of Cancer Research and Royal Marsden NHS Foundation Trust in London, said: "Abiraterone was initially approved for use in patients who had run out of standard treatment options, but this trial shows that if we can give patients the drug at an earlier stage we can slow their decline and block their cancer growth for longer.
"Abiraterone is not only keeping cancer in check and extending men's lives, but it is also set to deliver substantial benefits to men's quality of life, because its side-effects are so much milder than those of conventional chemotherapy."
The benefits were greater than those seen previously in men who moved on to abiraterone after chemotherapy treatment.
Men in the abiraterone group also reported less pain, and a less rapid decline in health-related quality of life.
There was a 25% reduced risk of death in patients receiving abiraterone. In their paper the researchers said this indicated "a strong trend toward improved survival". However, in terms of the way the study was conducted this result was not statistically significant.
10 Biggest Prostate Cancer Findings Of 2012
Professor Alan Ashworth, chief executive of the Institute of Cancer Research, said: "Abiraterone has provided men with advanced prostate cancer with a treatment option where previously they had none, and we were always optimistic that it would have even more dramatic benefits when tested in men with earlier-stage disease.
"The new findings show that abiraterone when given before chemotherapy can double the length of time before a patient's cancer starts growing again, and are likely to herald even wider use of this important new drug."
Professor Martin Gore, medical director at The Royal Marsden, said: "Here at The Royal Marsden we have seen first hand the impact abiraterone has had on our patients with advanced prostate cancer. Patients are now living longer, and with fewer side-effects. To now see the positive effect this is having on patients with early-stage disease is an exciting development in prostate cancer research."
Each year almost 41,000 men develop prostate cancer in the UK and around 10,700 die from the disease.
Prof de Bono said: "The good news is that this at least doubles and maybe even trebles the number of patients who could be eligible for abiraterone. The data are absolutely spectacular."
See also: Why We Should Remember The Cause Behind Movember
He added: "A lot of patients never receive chemotherapy. They want to delay the transition to chemotherapy for as long as possible, and who can blame them.
"This is a drug which works better in patients who have never had chemotherapy. We are hopeful that Nice will soon approve the use of abiraterone before chemotherapy treatment, but this does raise the key issue of cost."
Abiraterone costs around £3,000 per patient per month. Nice initially refused to approve the drug on grounds of cost effectiveness.
Prof de Bono said abiraterone was just one of a clutch of new drugs coming through the pipeline that offered hope to men with advanced prostate cancer.
Trials for several of these medicines are now under way and could be yielding major results in the next 18 months.
One discovery under investigation is that resistence to abiraterone can be reversed by combining the drug with other agents.
Prof de Bono said the future was suddenly looking brighter for men with prostate cancer, who previously had few options once their disease reached an advanced stage.
"In the last couple of years we have completely rewritten the text book on treating prostate cancer," he said.