The last remaining British inmate in Guantanamo Bay has launched a defamation case against the British security services for making "knowingly false statements" to his American captors.
Saudi Arabian national Shaker Aamer, who is still detained in the controversial prison camp, 11 years since he was captured, has been cleared for release by both the Obama and Bush administration, but never freed.
His campaign against MI5 and MI6 is supported by Reprieve and comedian Frankie Boyle, who launched the legal action at a conference on Friday. Shaker Aamer with two of his children, son Michael and daughter Johninh
Boyle pledged the £54,650 he won in libel damages from the Daily Mirror, which had described him as a "racist", to Reprieve in October.
Boyle said at the press conference: "I can't even call it a miscarriage of justice, because he's never even had a trial. We just want to see him back home."
In a statement, Reprieve said on Friday: "Reprieve has finally been able to declassify enough material through the US censorship process to move forward on this litigation, and call the UK agents out on their defamation."
Stafford Smith, said: "They [the security services] go around saying all these awful things about him, which aren't true. And say that this doesn't infringe his good character. It's just laughable. All we want is our day in court, where these allegations would never stand up."
MP Caroline Lucas, who supports the action, said in a statement: "The defamation of Shaker Aamer is evidence of the immense power of the security services to say whatever they want behind the backs of an accused man, to devastating effect."
Shaker's four British children – the youngest of whom he has never met - and British wife all live in South London. The family arrived in Britain in 1996 and were granted indefinite leave to remain.
A Foreign Office spokesman told The Huffington Post UK: "Mr Aamer's case remains a high priority for the UK Government and we continue to make clear to the US that we want him released and returned to the UK as a matter of urgency.
"We are currently working with US counterparts to consider the implications of the 2012 National Defense Authorisation Act for Mr Aamer's case."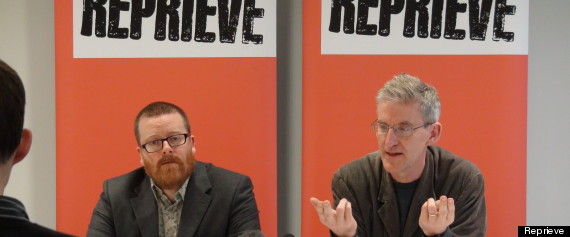 Frankie Boyle and Clive Staffod Smith launching the legal action on Friday
She continued: "The Foreign Secretary has raised Mr Aamer's case numerous times with Secretary Clinton and discussions continue with senior officials within the US Administration. The Defence Secretary has also raised Mr Aamer's case with US Defence Secretary, Leon Panetta.
"Any decision regarding Mr Aamer's release ultimately remains in the hands of the United States Government.
"We continue to monitor Mr Aamer's welfare through engagement with the US authorities. We have raised recent concerns with the US authorities and they have assured us that Mr Aamer remains in reasonable health, and that they are offering him treatment.
"It would be inappropriate to comment on the legal proceedings."
"The UK believes that indefinite detention in Guantanamo Bay is wrong and will continue to call for Guantanamo Bay to be closed and Mr Aamer to be returned to his family in the UK."
Aamer was arrested in 2001, after 9/11, in Afghanistan, where the US have alleged he was fighting for Al Qaeda. Amer has said he was working there for a Saudi charity, and that British intelligence services provided "false information" to his interrogators when he was sent to Guantanamo.
Aamers's lawyers said in legal documents seen by the BBC: "Mr Aamer emphatically denies that he is a member of al-Qaeda.
"The British Security Services will be able to produce not one shred of reliable evidence to the contrary."
US files from Guantanamo uncovered by Wikileaks in 2011 showed security believed him to have received "advanced terrorist training, indicated his willingness to become a martyr, and served as a sub-commander of al-Qaida forces in Tora Bora."
The Guantanamo Bay detainee assessment, published by Wikileaks, described Aamer as " a close associate of Osama Bin Laden and has connections to several other senior extremist members.
"Detainee has traveled internationally on false documents and is associated with al-Qaeda terrorist cells in the US. Detainee is a reported recruiter, financier, and facilitator with a history of participating in jihadist combat."