In an historic day for British politics, the Queen attended cabinet as an observer on Tuesday morning, managing a whole 30 minutes before leaving.
The event was billed as a "landmark" as no other serving monarch in living memory has attended a cabinet meeting.
Her Majesty was presented to each bowing or curtsying member of the cabinet, even managing to share a joke with chancellor George Osborne.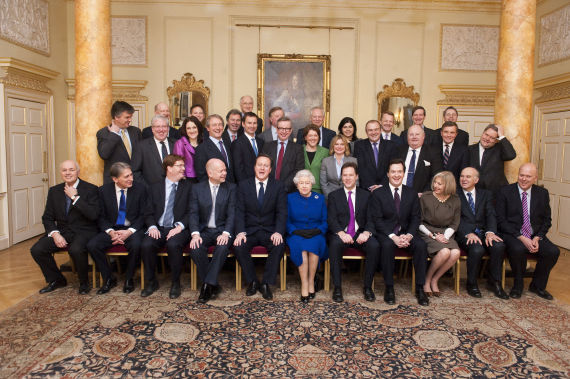 Professor Jane Ridley, biographer of Edward VII, told BBC Radio 4's Today, the meeting was a "landmark"
After entering the cabinet room, she found herself the envy of every red-blooded female in the country, sitting between prime minister David Cameron and foreign secretary William Hague.
Her Maj looked stern (bored?) wearing a smart Tory-blue number and dazzling brooch.
First on the agenda was the royal business of accession to the throne, presumably of great interest to a Queen with an impending great-grandsomething on the way.
Next up was the far less interesting topic of Ken Clarke's prospective justice measures.
Shortly after, she emerged from the meeting escorted by Hague.
And that was it. History had been made.