Sailors aboard the Royal Navy warship HMS Diamond have made it home in time for Christmas.
The Type 45 destroyer has been at sea for six months, but on Friday, the sailors were reunited with their loved ones at in Portsmouth. One sailor proposed to his girlfriend after six months at sea
They have sailed more than 31,000 miles on security and counter-piracy patrols in the Indian Ocean, Gulf of Oman and Arabian Gulf since leaving Portsmouth.
It was the ship's maiden voyage, leaving the port after launching the nation's Diamond Jubilee celebrations in June.
During the deployment, Diamond transited the Suez Canal before taking over from sister ship HMS Daring. The happy couple are reunited
The ship then spent the following five months as part of the Combined Task Force, a 27-nation partnership promoting security in the area.
Petty Officer from the ship David Turner said: "It has been a busy few months but working with the other navies has been enjoyable, as have all the fascinating places we have visited.
"Although what we have achieved has been immensely rewarding, after six months away it is good to know that we are back in time to be reunited with our loved ones for Christmas."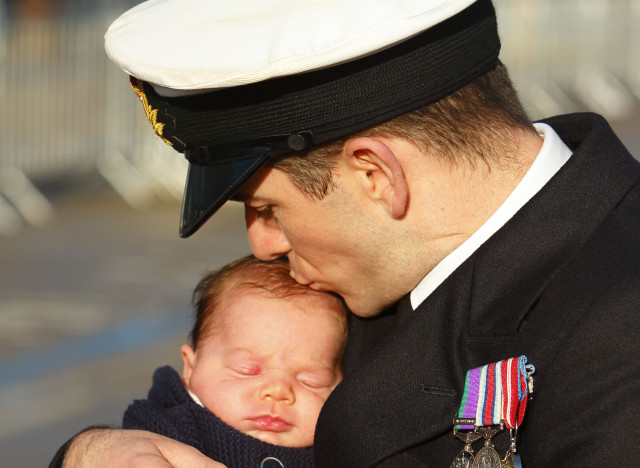 A sailor meets his son for the first time
Commodore Michael Cochrane, commander Portsmouth flotilla, said: "We welcome Diamond back after what has been an exciting and high-profile deployment for the ship's company, whose work has seen them entering new fields of interest for the air defence community.
"I am sure they will enjoy their well-earned period of leave." The servicemen and women have been reunited with their loved-ones in time for Christmas
Commander Ian Clarke, Diamond's commanding officer, said: "We have achieved a tremendous amount this deployment and I pay tribute to my fantastic ship's company."
As well as time at sea in the region, Diamond has visited Bahrain, Jordan, Kuwait, Oman and the United Arab Emirates, as well as Gibraltar, Crete, Athens and Barcelona.