Kylie Minogue was reunited with Jason Donovan on stage for the first time in 23 years.
The Australian pair duetted on their 1988 smash hit 'Especially For You' to rapturous audience applause.
During a musical interlude, Donovan swept the diminutive pop star - dressed in a short black dress with green leather - off her feet in a heartfelt embrace.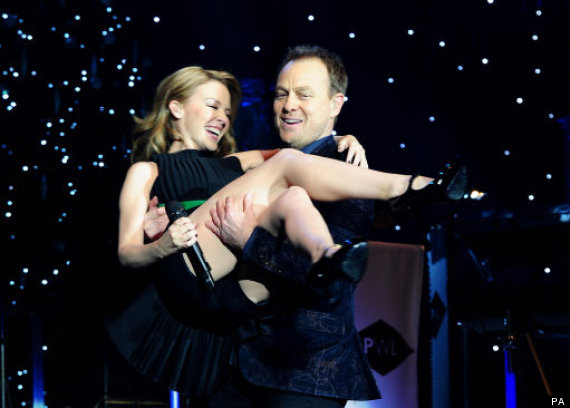 Finally...
Globally loved for their roles as Scott and Charlene in soap 'Neighbours', the single sold more than a million copies in the UK alone.
"How long have you waited for this for?" Minogue asked, before singing the closing notes.
The stars were joined by 80s and 90s pop stars Rick Astley, Bananarama and Steps among others for the Hit Factory Live - Christmas Cracker at London's O2 arena.
The show celebrated the Stock Aitken Waterman songwriting and production team.
Sinitta performed a medley of hits before enlisting the help of her backing dancer Billy to strip her down to her underwear, quipping "He's never undressed a grown woman before", before singing 'Toyboy'.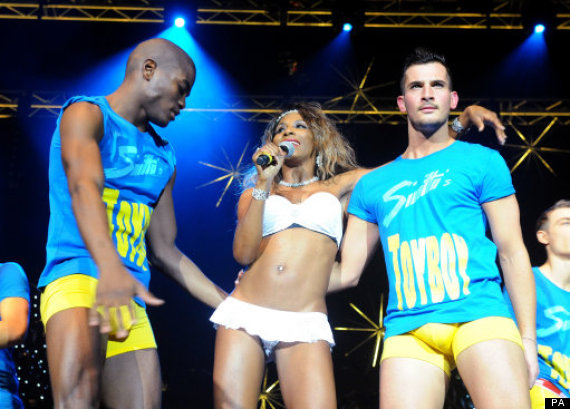 Sinitta stole the show with her little white two-piece
Pete Waterman himself took to the stage to present a tribute to the late Donna Summer sung by his latest protege James Graham.
Pete Burns, dressed in a black dress and veil, joined his Dead Or Alive bandmates to play 'You Spin Me Right Round'.
Wearing black dresses, Bananarama performed 'I Heard A Rumour', 'I Want You Back' and 'Venus'.
Though best-known as a trio, Keren Woodward and Sara Dallin now perform as a duo.
Ahead of his headlining spot with Minogue, Jason Donovan serenaded the crowd with hits including 'Nothing Can Divide Us' and 'When You Come Back To Me', including some energetic dance moves.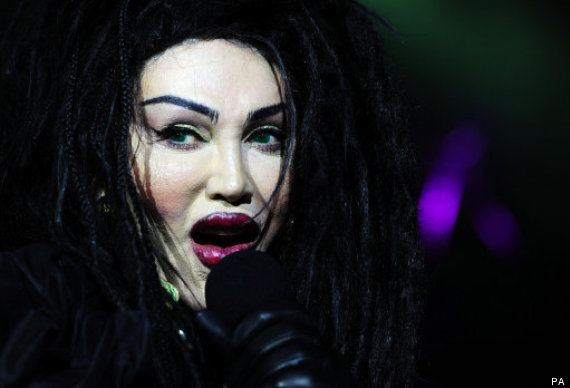 A striking Pete Burns dressed up for the night
Rick Astley belted out his hit single 'Never Gonna Give You Up', which has become an internet sensation in recent years.
The recently reunited Steps sang a selection of their greatest hits, including The BeeGees's 'Tragedy' and 'One For Sorrow'.
Other acts included 2 Unlimited, Sonia, Princess and Pepsi & Shirlie.
All the acts took to the stage to close the show with Slade's 'Merry Xmas Everybody'.
Pictures: How many of these would you recognise?
A proportion of proceeds from ticket sales will be donated to Cancer Research UK.
The show had been due to take place in Hyde Park in the summer but was axed because of bad weather.