"Sienna mentioned that she wouldn't be able to attend the second day of rehearsal, but she played it down," remembers Toby Jones. "It was only when I switched on the TV and I saw her giving evidence at Leveson, I realised she had quite a lot going on in her life."
Bearing in mind that was about the same week the actress also discovered she was expecting her first child, it was a particularly impressive sang-froid she was displaying to her cast and crew of 'The Girl' - the story of Alfred Hitchcock and his malicious, lovelorn handling of his star Tippi Hedren on the set of 'The Birds' - a BBC/HBO production now available on DVD, following its well-received UK TV broadcast at Christmas.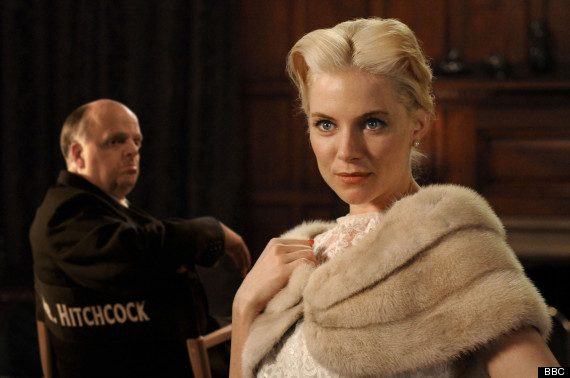 It all started so well for Alfred Hitchcock and Tippi Hedren...
"You think you know all this stuff about Sienna because her face was in the papers, and then she gets to work and she's just really calm, focused and hardworking. I thought she was absolutely great to work with," says Jones, high praise indeed from one of Britain's most in-demand actors ('Harry Potter', 'Tinker Tailor', 'Captain America' and 'The Hunger Games', to name a few).
Miller's performance as Hedren is indeed compelling, with both her and Toby Jones receiving Golden Globe nominations for their work.
'The Girl' is not a tale for the faint-hearted, as the adoration of Hitchcock (Jones) for his new young actress became obsession, then increasingly malice as his affections are not returned. This treatment culminates in Hitchcock secretly swapping the planned fake birds with real ones, for a scene meant to last only a few hours, but which, in fact, continues for days, until a horribly pecked Hedren collapses and has to receive medical treatment.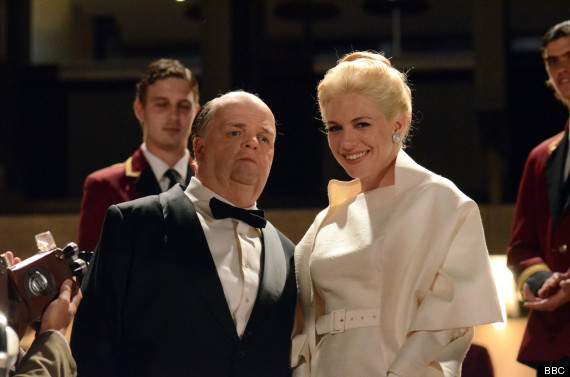 Toby Jones and Sienna Miller as Alfred Hitchcock and his unwilling muse Tippi Hedren
If it seems unconscionable that this was allowed to go on unchecked, Hedren has always stressed that this went on. Is Toby Jones inclined to believe the extremes of her account?
"Oh yes, I think so. The only thing I would add in Hitch's defence is that Tippi is equally quick to acknowledge that, as well as all the harsh treatment, she received lessons in film from the world's master that she felt privileged to get. So in between all the bad, there was some good."
Hitchcock, in Toby Jones' handling, is unquestionably vile in his treatment of his leading lady - manipulative, jealous, unpredictable - like the worst of bad lovers - but also transparently in need of approval and love, something the actor is pleased to hear.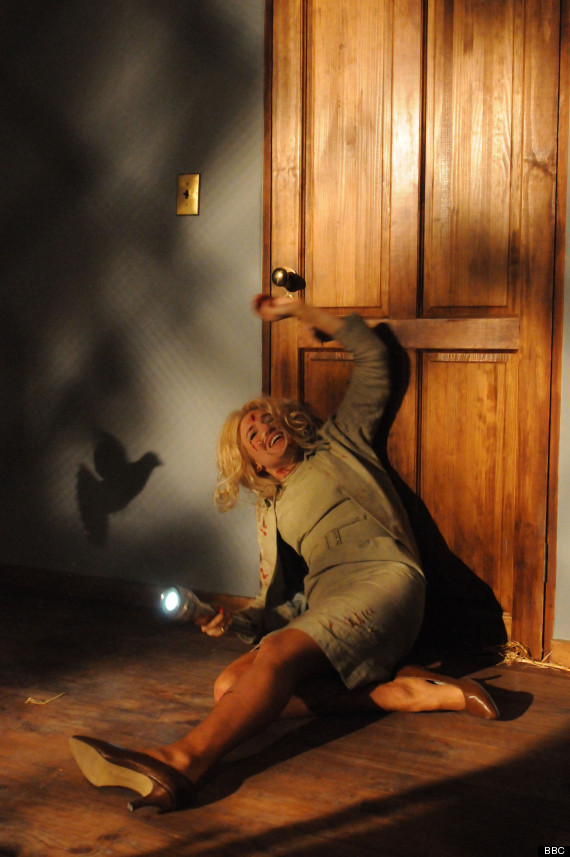 Tippi Hedren (Sienna Miller) saw the cruel side of Alfred Hitchcock while filming 'The Birds'
"I'm very pleased if that comes through," he says amiably. "I was at pains to put that across, because I genuinely believed a lot of his terrible behaviour came from his self-loathing and insecurity, which is pitiable anyway, but more so in a man of his extraordinary talents. And of course it was these talents that meant he could get away with it."
Of course, this being a year of celebrations for all things Hitchcock, the director Julian Jarrold isn't the only one to get his mitts on the subject of the director and his personal goings-on - there's a bigger budget film, 'Hitchcock', starring Sir Anthony Hopkins, Dame Helen Mirren and Scarlet Johansson, about to hit the big screen (8 February in the UK) telling the story of 'Psycho', which came just before 'The Birds'.
Is this a good thing for actors when similar films line up in a row like coffee shops, or a blow? Jones is philosophical, impressively so when you remember it isn't the first time this has happened to him (he and Philip Seymour Hoffman traded Truman Capotes, the latter to Oscar-winning effect...
"It's a bit of a worry, because there's a lot of noise out there, and you don't want to get lost in the noise," he admits. "But if audiences can sort it out, and I'm hopeful fans of Alfred Hitchcock will, then the two films can be useful bookends to each other. One can explain the other.
"'Psycho' was such a massive hit, that when he came into 'The Birds' straight after, there was a huge expectation around him, he was under a lot of pressure, feeling very vulnerable, and that might go some way to explaining his behaviour to Tippi... almost."
The Girl is now available on DVD. See some glamorous stills from a golden age of Hollywood here...