Sir Alex Ferguson has hit back at Alan Pardew after the Newcastle United manager said the Scot's pressure on Mike Dean was "tough to take" for the referee, branding the Magpies a "wee club in the north east".
Ferguson was incensed Dean overturned the linesman's decision to award Jonny Evans' own goal in Manchester United's 4-3 Boxing Day victory over the Magpies and confronted both officials - as well as the fourth official - prior to the restart. He will not face a Football Association charge after Dean failed to mention the incident in his match report.
Pardew, who received a two-match touchline ban for shoving a linesman on the opening day of the season, acknowledged such past misdemeanours yesterday but Ferguson did not pass on the opportunity to convert an open goal.
"He [Pardew] is the worst for haranguing referees," Ferguson insisted at his Friday press conference. "His whole staff, every game. He was at it the whole game on Wednesday.
"He shoves a linesman then makes a joke of it, then he's got the cheek to criticise me. It's unbelievable." Ferguson, perhaps burning bridges with his counterpart, then added "He forgets the help I've given him, by the way."
Pardew and his assistant manager John Carver accosted the fourth official after the Evans own goal was initially ruled out and the Newcastle boss has been emrboiled in past touchline spats with Arsène Wenger and Martin O'Neill.
Ferguson was not finished, however, and exercised the nuclear option when he responded to the scrutiny he had come under since the Dean row.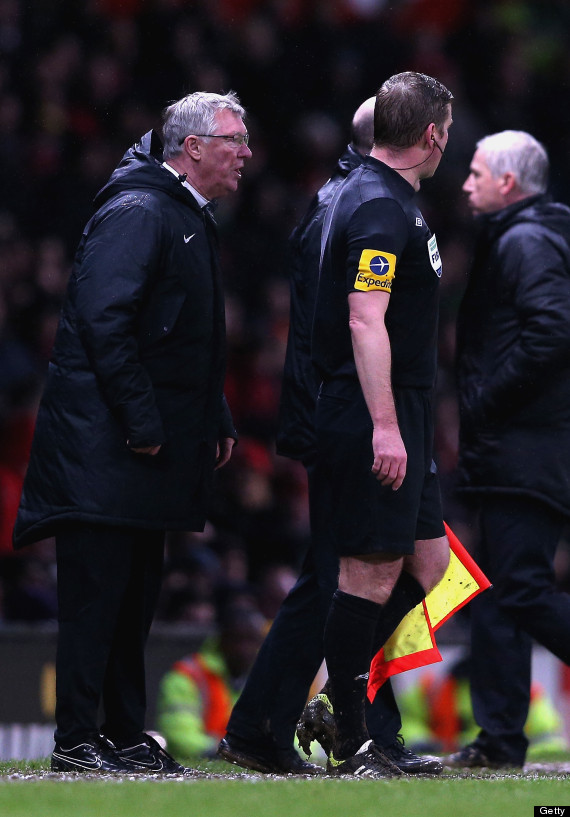 Ferguson was apoplectic after Evans' own goal stood
"It's the price of being at the most famous club in world and not a wee club in the north-east like Newcastle," he hissed.
Ferguson, 71 on New Year's Eve, was critical of Rafael Benítez in April 2009 after he branded Everton a "small club".
"Everton are a big club, not a small one which Benítez arrogantly said," he declared.
Ferguson's feisty mood continued as he cited the profile of United as to why his encounter with Dean had gained so much attention.
"I was demonstrative but I was not out of order. The press had a field day," he continued. "The only person they've not spoken to is Obama because he's busy.
"I was demonstrative. I am always demonstrative. Everyone knows that. I am an emotional guy. But I was not abusive. I shouted Mike over. We walked towards each other. I was only on (the pitch) three or four yards. That has been overplayed.
"The problem for me is that the profile of this club is huge."
Pardew said on Thursday: "I think Mike Dean might feel slightly disappointed he didn't do something about it [the Ferguson incident].
"I think the pressure that was on him was tough for a referee to take. Sometimes when you reflect on a game you think you might have acted differently. You do that as a manager and I think he might have done that as a referee.
"But it's an emotional game and apparently they had a cordial discussion. I've had a few of those myself and sometimes I've ended up in the stands as a result of that cordial discussion."