Rain has swept across south western parts of Britain, bringing a sodden end to what is likely to be one of the wettest years on record.
Some upland places in south Wales and south west England saw nearly an inch of rain (20 to 25mm) in the six hours from 6am on Monday, said Julian Mayes, a senior forecaster with MeteoGroup, the weather division of the Press Association.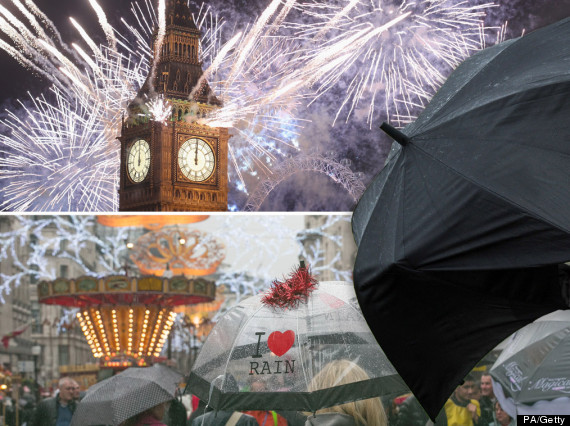 New Year's celebrations could be on the damp side
"That's going to be making rivers rise temporarily at least, and causing more concern," he said.
There was heavy rain overnight in many areas - Shap in Cumbria had 52mm (two inches) and Capel Curig in Snowdonia 48mm in the 12 hours between 6pm on Sunday and 6am on Monday.
"It was one of those nights when the rain gets a lot heavier over the hills, partly because it was windy," Mr Mayes said.
The renewed downpours came with much of England, Scotland and Wales on flood alert.
The Environment Agency has 211 flood alerts and 90 flood warnings in place in areas where the ground is already saturated and rivers and groundwater levels are still high.
They follow hundreds of other alerts issued this month, as several days' worth of rain fell in a few hours at its worst, contributing to a year of bad weather which has left the UK on the brink of its wettest since records began in 1910.
The start of 2013 is expected to bring some much desired respite from the rain.
"This latest band is moving south east, and should clear London by about 9pm, giving hope that it may be dry for the New Year celebrations, though turning colder," Mr Mayes said.
This month hundreds of homes have been evacuated and weary commuters and travellers forced to find alternative routes or abandon their plans altogether as sections of Britain's transport network ground to a halt.
Environment Agency teams are continuing to monitor river levels, clear river channels and ensure flood defences are working properly, and have erected mobile flood barriers in cities and towns such as Oxford, Worcester, Shrewsbury and Bewdley.
SEE ALSO:
Larger rivers such as the Thames, Severn and Wye are likely to remain high for several days.
A spokeswoman warned that there is a continued risk of localised flooding over the next few days, even though conditions are set to improve as more settled weather arrives to mark the start of 2013.
She said: "Large rivers that respond slowly to rainfall, including the Thames, Trent and Severn, will continue rising through the next couple of days and high groundwater levels in southern England will continue to pose a risk to communities, particularly in Dorset.
"People are urged to keep safe while they celebrate the new year by keeping up to date with the latest flood warnings on the Environment Agency's website (www.environment-agency.gov.uk/flood) or by calling Floodline on 0845 988 1188.
"We are also reminding people to stay away from flood water and not to drive through swollen rivers. Floods have caused misery for many throughout 2012
"More than 800 Environment Agency staff have worked over the festive period to reduce the risk of flooding across England and Wales.
"Teams continue to work around the clock shoring up defences, clearing blockages from watercourses, monitoring river levels closely and installing temporary flood defences to protect properties from flooding including at Ironbridge, Bewdley, Shrewsbury and Oxford.
"Latest figures show that around 540 properties have flooded since Wednesday 19 December. The Environment Agency has sent over 115,000 warnings to people at risk of flooding. Flood defences have protected more than 21,600 properties across England and Wales. The Environment Agency's Floodline has received around 36,000 calls for help and advice with flooding in the last 11 days."
Flood risk manager Pete Fox said: "The recent rain has left river and groundwater levels high and people should continue to keep up to date with the latest flooding updates on our website and via our Twitter and Facebook pages.
"Over 21,000 properties have been protected from flooding this Christmas and our teams are continuing to work around the clock with local emergency services to keep communities safe. People should sign up for free flood warnings, keep up to date with the latest situation on our website, and see the new year in safely by staying away from dangerous flood water."
Cheltenham Racecourse was forced to cancel its New Year's Day meeting after heavy rain left the track waterlogged.
The event is a family favourite, with large and enthusiastic crowds determined to welcome the new year in style.
But with the ground saturated, the track has been left unraceable in places forcing organisers to cancel this year's celebrations.
According to the Met Office just 1.8in (46mm) of rain is needed to fall by the end of tomorrow to make this year the wettest on record for the UK overall, with a new record already set for England with 43.1in (1,095.8mm) falling between 1 January and Boxing Day.
The UK as a whole had 50.8in (1,291.2mm) from 1 January to 26 December, with the wettest year on record for the UK currently 2000, when 52.6in (1,337.3mm) fell.
Confirmation is expected next week, and would be all the more remarkable considering the drought status declared for parts of the country during the early part of the year.