It's a happy new year, especially for those fans of Nordic Noir, Tom Daley, travelling Time Lords and a particularly expressive 'Entourage' alumnus.
Here are my top 13 TV and Film Choices coming up in the next few weeks to ease you back into the second half of winter...
1. It's on already, and not to be missed. Dustin Hoffman's directorial debut 'Quartet' has already earned well-deserved plaudits for its veteran stars. Dame Maggie Smith, as usual, steals the show as a retired diva who comes across her former love in a retirement home for musical folk, but she's not the only star turn. Billy Connolly does his best to cause mischief and Sheridan Smith proves a worthy addition to this revered roll call.
2. Four more sleeps until... Borgen. ARGUABLY the most satisfying Nordic drama is back, with the PM's marriage in tatters, the Coalition at each other's throats and the media pack on her warpath. Fret not completely, however, because the unblinking, unsleeping Kaspar is still there, ready to be her bad cop. How can she fail?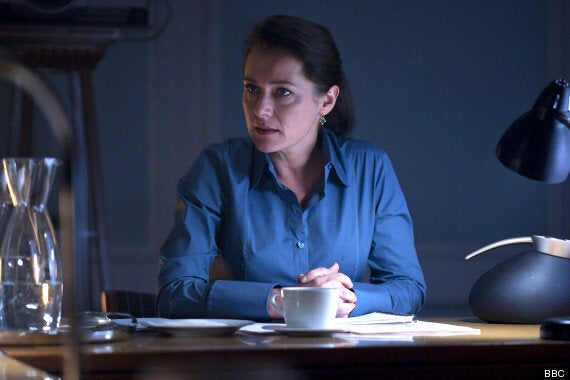 Sidse Babett Knudsen is back in action as the increasingly challenged PM Birgitte Nyborg Christensen
3. Mr Selfridge - Sees ITV take on the BBC's The Paradise with its own depiction of period tale department store drama. ITV have got an extra special weapon in the form of Jeremy Piven (the much-admired Ari Emanuel in 'Entourage'), as the man who introduced 'first floor haberdashery' long before Mr Humphries was a twinkle in his father's eye.
4. Splash! - Tom Daley fronts this new splitting-the-atom between Olympic nostalgia and reality TV, as he takes on the almighty challenge of teaching celebrities how to high dive. This may prove to be the car-crash telly of the season - or it may belly flop. I'm just the messenger.
6. Spies of Warsaw - David Tennant in wartime espionage as an European attache, in this BBC4 drama with lots of guns appearing out of beige raincoats and some Casanova-esque romping in boudoirs with high ceilings. Tennant fans won't be disappointed.
7. Les Miserables - Much has been mooted about Tom Hooper's ambitious, cut-NO-corners big screen adaptation of this global theatrical landmark. The British Oscar-winning director forced his A-listers to sing live throughout production, which makes for a nervewracking but ultimately satisfying and engrossing cinematic experience. Anne Hathaway and Hugh Jackman are particularly shiny, and even Russell Crowe reveals a hitherto concealed vulnerable side.
8. Doctor Who's 50 Anniversary - Steven Moffat is teasing his Tardis fans with hints and equally quick denials about the prospect of a Doctor Who film. In the meantime, his legions of admirers will be looking to Moffat and his sidekick Mark Gatiss to lead them safely through the Timelord's half-century. Old fans will be euphoric and, judging by the high approval ratings of the latest Doctor and his companion Matt Smith and Jenna-Louise Coleman, new ones will surely be found.
9. Sir Anthony Hopkins and Dame Helen Mirren work their magic with Sacha Gervasi's biopic 'Hitchcock', telling the story of how the director confounded his doubters with the help of a shower curtain and some very tightly strung violins. It's a surprisingly moving tale, full of the joys and challenges of marriage, along with the succulent taste of bygone Hollywood.
10. With the cast list including Ryan Gosling, Emma Stone and Sean Penn, Gangster Squad is an assured crowd-pleaser, with its colourful depiction of cops versus mobsters in 1940s and 50s LA. Expect lots of guns, hats and lipstick.
11. The Big Reunion - Two intense weeks of rehearsals, as five of Britain's 'greatest' bands reunite for a comeback performance. Cameras follow the members of Five, Atomic Kitten, Honeyz, 911, B*Witched and Liberty X in action, and hear about how it all went wrong before. Cross fingers for fireworks.
12. The Following - Kevin Bacon lends his formidable skills to the small screen as an FBI agent, the only one capable of foiling sserial killer Joe Carroll (a surprisingly creepy James Purefoy). Carroll is, theoretically locked away but, due to the powers of the internet and in no small part his own charisma and way with a poem, this doesn't mean his killing spree is unfinished. These two actors are worthy rivals and, if the pilot is anything to go by, could prove to be ... the next 'Homeland'? At a pinch.
13. Girls - Lena Dunham's critical and popular hit shows no signs of abating, and the good news is we don't have to wait any time at all for Series 2, being shown almost concurrently in the US and UK. Which means we'll soon get to find out if Hannah comes to her senses, grabs hold of Adam - currently my favourite character on television - and holds on for all she's worth. (He was last seen kicking her out of the ambulance carrying him to hospital, so this could take a while, but fingers crossed...)