The Guardian has been slammed as "money grabbing" and "disrespectful" on social media sites after publishing in one of its adverts a letter from the Argentine President calling David Cameron to relinquish control of the Falklands.
Falklanders have criticised the newspaper for providing the outspoken president with a platform for what many people have described as her "propaganda". Cristina Fernandez de Kirchner has reignited the row over the future of the Falkland Islands
A spokesperson for Guardian News & Media said carrying an advert "does not equate to support or endorsement for the views expressed in that advert."
The Independent also ran the advert on p13 of Thursday's edition.
The British government has said the Falklands' population had chosen to be British and a referendum on its political status is due to be held in March.
The Falkland United Twitter account, which, in its own words exists to "raise awareness and help spread our right to self-determination" described the incident as an "advert shambles".
"The Guardian advert is an insult to us as Falklanders' but even more so to those who lost their lives liberating us," one tweet read. The foreign office said it would not negotiate on the sovereignty of the Falklands
This view was echoed across Twitter, with some saying the advert "is an insult to the Islanders and to those who died for their freedom in 1982."
Others said that there was nothing wrong with reporting the letter, but to run it as an advert was "simple greed."
In a more tongue-in-cheek comment, another Twitter user said he hoped the Guardian got the money up front. Argentina is currently mired in debt, a fact which led to others observing that Kircher's decision to reignite the Falklands row may merely be a distraction from the country's real problems.
However some Twitter users thought arguing over the morality of the advert risked eclipsing the real debate. Some voices backed the Guardian saying by simply 'ignoring the issue' wouldn't make it go away.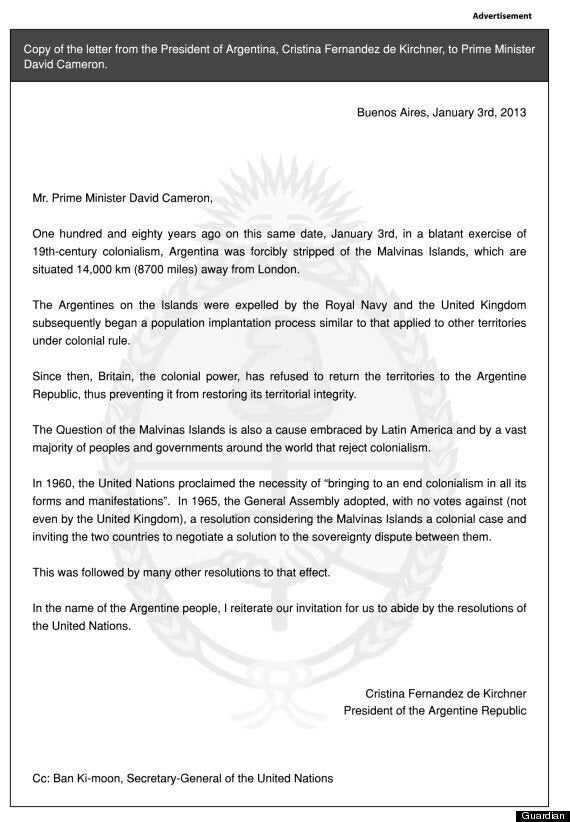 The letter has been published as an advert in the Guardian
A Foreign Office spokeswoman said that the Falkland Islanders "are British and have chosen to be so".
"They remain free to choose their own futures, both politically and economically, and have a right to self-determination as enshrined in the UN Charter," she added.
"This is a fundamental human right for all peoples. There are three parties to this debate, not just two as Argentina likes to pretend.
"The islanders can't just be written out of history. As such, there can be no negotiations on the sovereignty of the Falkland Islands unless and until such time as the islanders so wish."
Related