Journalists at one of China's most influential papers have stunned the country by going on strike over censorship of their paper's New Year message, which was changed by propaganda officials.
Southern Weekend staff have demanded that the Guangdong censorship officials resign over the changing of the editorial message, which called for political change.
Student protesters joined the demonstrations by the journalists, who held banners calling for press freedom, constitutionalism and democracy".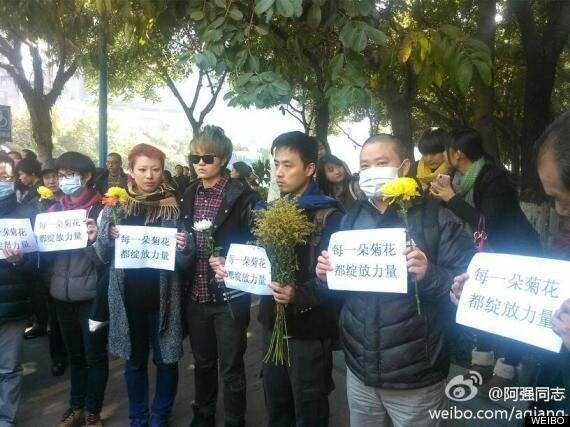 A picture posted on Sina Weibo, purportedly of the demonstrators, was posted on Twitter by John Kennedy
Southern Weekend, unlikely much state-run media like the Xinhua news agency or broadcaster CCTV, is known for investigative journalism, testing the limits of free speech in the nation.
The new year editorial, which called for the cementing of rights into a constitution, entitled "Dream of China, Dream of Constitutionalism" was changed to gushing praise of the Chinese Communist Party.
"Dream of China" is a favoured saying of new Chinese premier Xi Jinping.
Some of the protesters carried banners that read: "We want press freedom, constitutionalism and democracy".
In two open letters 35 prominent former staff and 50 interns at the paper demanded the provincial head of propaganda Tuo Zhen immediately resign for his interference, which they say overstepped his duties.
The first open letter, translated by China Media project, said: "We are just a group of young people with ideals, even as 'ideals' at present meet with mockery. Essentially these ideals are the hope that their own country can be better, the hope that their own people can live happily.
"This newspaper has for many years been a paper that sincerely loves its country and its people. The people [who work] there hope, in a spirit of good-will, that their country can be better.
"How can a country determined to become a culturally strong nation employ methods lacking culture to manage culture?
"How can a country that is building its international image permit people to use rude and arbitrary methods that damage the country's reputation?"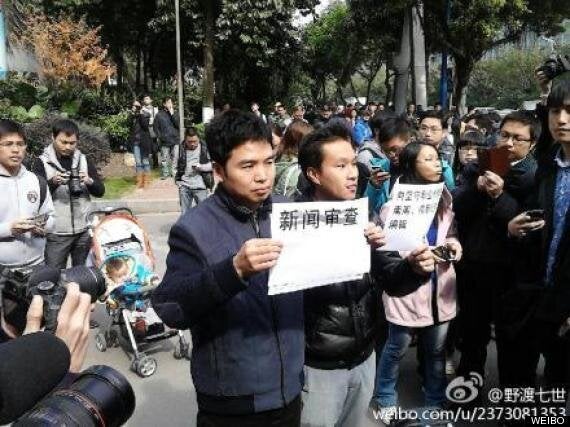 Searches for the Southern Weekend newspaper have been banned on Chinese social media
A statement from Southern Weekly via Weibo, released on Sunday, said in 2012 1,034 news reports were revised or cancelled due to censorship.
But more outrage was ignited when the newspaper's official microblogging profile sent out a number of tweets denying the change was caused by censorship officials, and had in fact been approved by senior editors.
Southern Weekend journalist and head of its social media operations Wu Wei confirmed that he was forced to hand over his password for the paper's account on Sina Weibo.
Another message appeared on the Weibo account of the paper's business desk, saying the paper's social media operations had been seized by propaganda officials.
"The statement [on the official microblog] does not represent the opinion of the editorial staff. It is a result of pressure applied by the authorities.
"The editorial staff will fight against the falsified statement. Until the issue is resolved, we will not do any editorial work."
One reporter, who remains anonymous, told China News Network her stories had been "raped".
Searches for "Southern Weekend" have now been blocked on Weibo, returning a message that reads: "According to relevant laws, regulations and policies the search results for 'Southern Weekly' cannot be shown."
Students, journalists and social media protesters are now calling for supporters to "occupy" locations in Beijing, Shanghai and Guangdong.