A remarkable 80-year-old has written her first book - a sometimes harrowing, no-holds-barred account of her 13 year mission to improve the lives of people in the central African country of Rwanda.
Each year Deri Rundle has spent three months in remote areas in the north of the beautiful, but poor and over populated country - known as Little Switzerland, but globally infamous for the deaths of hundreds of thousands in inter-tribal massacres.
Her self-published book - Never Again - is based on the extensive African diaries she kept while working with villagers on behalf of the David Rundle Trust, set up in memory of her engineer husband who died aged 59 in 1996.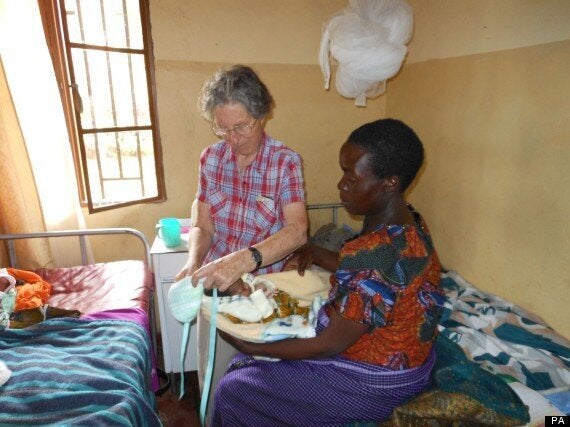 Deri Rundle with a patient
Every penny raised by the £8.75 book will be used by the trust to continue its mission to improve the lives of local people. It has so far built 10 water tanks and 15km of pipeline connecting seven villages to clean water, a clinic extension and an orphanage.
The trust has also organised and introduced much-needed family planning in villages, and is educating over two dozen orphaned children.
Mrs Rundle's book is unsparing in horrific tales of the violence and brutality suffered by the people of Rwanda. She tells of:
Ten-year-old boy soldier Kaz who somehow escaped to safety in Uganda after his young companion in arms was blown apart by machine gun fire, and Pascal H, who survived by playing dead when gunmen mowed down his mother and baby sister. Both have now been helped to study at a Ugandan university by the trust - which also sends 27 orphans to boarding schools across the country.
She also wrote of a boy, Pascal K, who watched thugs execute his father with a machete, whose mother was raped and murdered, and whose sister and two brothers were also slain.
Pascal's right arm arm was chopped off above the elbow. Rescued by pygmies, he fell ill and later died before Mrs Rundle could get him to hospital.
And a girl who saw her family hacked to death and thrown into lake Kivu. "She wants to be a doctor - I am sure she will make it," said Mrs Rundle.
"Some people have told me they cried reading the book - but there were worse atrocities I did not write about," she said.
"But the book is not all doom and gloom, there are parts you can laugh at - the majority of the Rwanda people just want to get on with their lives."
In her book Mrs Rundle, who worked on orangutan research in Borneo before becoming involved in Rwanda, described a close encounter with a 200kg silverback gorilla on a mountain trek - talking "gorilla" to move within two metres of the powerful creature.
Travelling around outlying areas on the back of a bicycle, motorcycle or a cart, and living mainly on vegetables, Mrs Rundle often found herself the only source of medical help for villagers - armed with a "Where There Is No Doctor" book.
She writes of treating anything from ear and stomach ache to boils, even having to carry out minor surgery because of lack of a doctor - stitching a bad gash in a boy's leg, after giving him, and herself, a slug of brandy for courage.
When an earthquake struck she spent three days helping children in the ward of a hospital which had been damaged by tremors.
When she is not in Rwanda, living among the people she helps, the pensioner is at home helping to raise awareness and funds for the trust. Her fundraising book is available from most bookshops or via deri239@tiscali.co.uk..
Mrs Rundle, from Westward Ho!, Devon, will be back in Rwanda at the end of this year helping children celebrate Christmas - building a crib, and improvising decorations for a seasonal tree fashioned from branches.