A piece of public art which cost more than £300,000 to build five years ago is to be demolished.
Pieces of the Civic Heart Arch in Chester-le-Street town centre have become loose and it has had to be fenced off from the public.
Cash-strapped Durham County Council has announced that the archway, created by artist Jo Fairfax, will be removed and paving reinstated at a cost of almost £48,000.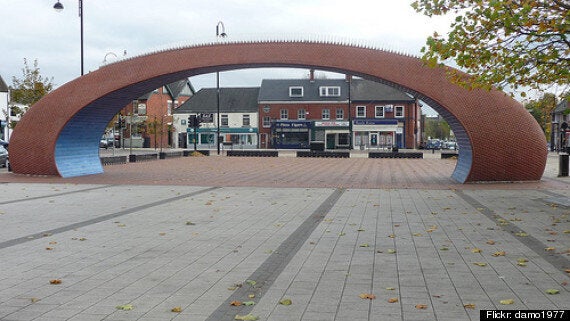 The decision was made following overwhelming support for the 75ft (23m) long arch's removal.
It would have cost £282,000 for a full repair, plus a further £5,000 for annual maintenance.
It currently costs the council £300 per month to monitor the artwork and ensure public safety.
More than 94% of people who took part in a consultation were in favour of demolition.
Durham County Council leader Simon Henig said: "In line with our promise to the public, now that we know their wishes, we will waste no time in taking action to remove the arch and make good the Market Place."
A structural examination of the arch last year revealed that its cover of 10,000 briquettes had moved as a result of exposure to the weather and some are no longer properly supported.
The 20ft (6m) tall arch was designed in red brick to match the town's large railway viaduct and included 480 LED lights on top which slowly changed colour.
The piece was nominated for three architectural awards.
Mr Fairfax, who only heard that the arch would be demolished after he was contacted by the Press Association, said: "It is extremely upsetting. As you can imagine, a lot of work went into it.
"It was nominated for several architecture awards and appears in books on European architecture and it seems a huge shame that it ends like this."
Mr Fairfax, who is known for his public artworks, said a lack of maintenance was to blame for water getting into the structure, which has caused damage particularly over recent harsh winters.
He said the design brief was to create something unusual, and it could have lasted for decades if properly maintained.
"It is something you would not normally see in a market place and this is partly why it gained the interest from conferences and books on architecture and urban spaces."