A violent racist confrontation broke out between two passengers on a London Underground train when a young man took a swing at a woman who called him a "smelly F***ing Nigerian".
The ugly spat was captured by a fellow passenger on a mobile phone, and shows passengers on the Northern Line train leap up to stop the teenager taking a swipe at the woman, as the train pulls into Moorgate station.
British Transport Police have appealed for information about the identity of the two.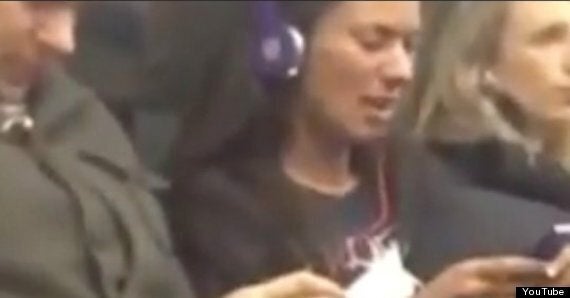 The woman in purple headphones appears to insult a fellow passenger in a video posted on YouTube
The woman's voice is first heard saying: ""I wouldn't f***ing touch you. You are f***ing s*** on my shoe". She appears to attempt to justify she is not racist by telling him her boyfriend is black and "He respects me."
The boy calls her a "white princess, queen, Kate Middleton!" and "smelly p**** b****", asking: "How old are you, 28? I'm only 19."
The retorts from her include "b******s like you will steal from me" and calling him a "smelly f***ing Nigerian", with the boy then comparing her to an "escort".
He lunges at her saying: You hit me on the head with a bottle... you racist b****... looking at you, you f***ing escort. There are witnesses. Everyone seen, everyone heard!"
As passengers pull him away he shouts: "Don't you ever touch me, don't you dare touch me."
The confrontation was uploaded to YouTube on Wednesday but may have been filmed earlier.
A BTP spokesman said: "We urge them or anyone who knows them, as well as passengers who were on the train at the time, to come forward so we can begin to build a full picture of what exactly took place."
Anyone with information should contact British Transport Police on 0800 40 50 40 quoting reference B7/LUA of 10/01/13.