Four inches of snow could fall this weekend as Britain as beset by wintry showers.
The Met Office has issued a "yellow" warning of severe weather for the whole of southern England tomorrow which extends north on Sunday as temperatures plummet.
Forecasters said the cold snap was likely to bring widespread ice as the AA warned that 75% of drivers were not prepared for conditions on the roads.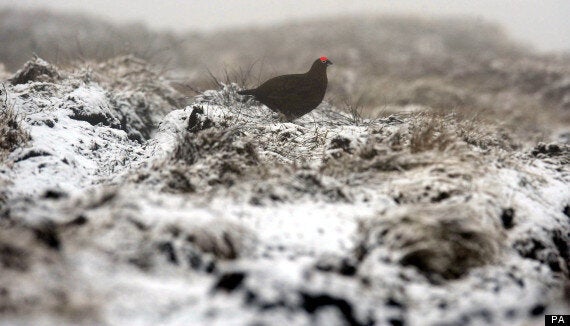 Snow fell on the Northumberland border on Friday with much heavier snow forecast over the weekend
During the next few days, the mercury is expected to drop to minus 6C in some places, with parts of north Wales, north east England and Scotland among the chilliest spots.
A dusting of snow is forecast for Wales and the Midlands tomorrow.
This is predicted to be heavier on Sunday when it falls on Northern Ireland and Scotland, which could see dumps of up to four inches.
Met Office spokesman Alexa Jones said a band of rain moving from west to east would begin to fall as sleet this evening.
"Tomorrow there will be outbreaks of rain and sleet with some snow," she said.
"This may linger in parts of southern England.
"On Sunday morning, these wintry showers might turn to light snow.
"Snow showers are also likely to affect northern England and Scotland on Sunday and we could get 5cm-10cm (two to four inches) there."
The Met Office has warned of ice in the South on Sunday and snow in the North.
It has issued a snow warning for the whole country on Monday, when most areas can expect a two-inch covering.
John Lee, a forecaster with Meteogroup, the Press Association's weather division, said temperatures were likely to remain low, reaching a minimum of minus 4C in some areas tomorrow night.
He said: "It will be very cold over the weekend and will be staying cold into next week, with temperatures quite widely not getting above 4C during the day."
Temperatures have been mild so far this year and were as high as 9C (48F) in Cornwall yesterday.
But with wintry showers on the horizon, the AA placed a severe weather team on standby.
Around three-quarters of motorists are ill-prepared for potentially hazardous conditions, according to a new Populus survey of more than 20,000 adults, the organisation said.
It has urged drivers to carry an essential winter kit and check their cars before getting behind the wheel.
Andy Smith, of the AA, said: "It's very difficult to predict the extent of the weather but there could be some disruption even on local journeys, so keep an eye on the weather and traffic reports and plan accordingly.
"Even if there's no snow where you're travelling, it's likely to be icy in places. Keep your speed down, particularly on rural and ungritted side roads, and take extra care when approaching junctions and roundabouts."
The Highways Agency said it is "well prepared" for winter conditions.
A spokeswoman said: "We have a fleet of 500 state-of-the-art winter vehicles on standby, supported by tried-and-tested winter resilience plans.
"We have reviewed salt stock levels and taken action where needed to enhance our resilience and we have again established a reserve salt stock to help ensure that there is enough salt to deal with severe winter.
"Our roads will be treated whenever there is a risk of ice or snow. However, even when roads have been treated, drivers should still take care, especially on stretches where the local road layout or landscape means there could be a greater risk of ice forming."
People living with lung disease are at risk of their condition worsening in the cold weather, the British Lung Foundation has warned.
Dr Penny Woods, chief executive of the charity, said: "People with respiratory diseases such as COPD or severe asthma can be particularly susceptible to the effects of a sudden cold snap, finding themselves shorter of breath and coughing more than usual.
"The impact can be very serious - cold periods almost always see a rise in the number of people hospitalised with respiratory disease.
"Many of the ways in which people with lung disease can avoid a worsening of their condition are common sense: wearing more layers and warmer clothing, even at night, and keeping the home well-ventilated but warm - around 21 degrees in the living room, around 18 in the bedroom."
The RAC said it is expecting up to 56,000 breakdowns and widespread disruption on the roads which could hamper millions of motorists if the expected snow arrives over the weekend.
It has placed extra patrols on stand-by to help stranded motorists and said call-outs are expected to rise by 20% or more.
A spokesman said: "In the event of heavy snow, the RAC is urging motorists to avoid all non-essential journeys as there is a risk Britain's road network could grind to a halt."
RAC roadside operations manager Matt Dallaway said: "We know from bitter experience that the UK's roads struggle to cope with a sudden burst of snowfall.
"The RAC could be dealing with in excess of 11,000 breakdowns on Monday if there is widespread snow.
"We would advise motorists to check the weather forecast and think very carefully about whether their journey is essential before setting off, particularly if they're planning to travel a long distance. Even half an inch of snow can bring roads to a standstill and leave drivers stranded in their cars."
Call-outs from people whose vehicles broke down or were struck with an engine fault increased by 92% during the last cold snap in February when more than 10,000 batteries a week had to be replaced, the RAC said.