The founder of The Big Issue tonight condemned the fatal stabbings of two vendors in a city centre as "utterly senseless" as police appealed to hundreds of people who may have seen the attacks to come forward.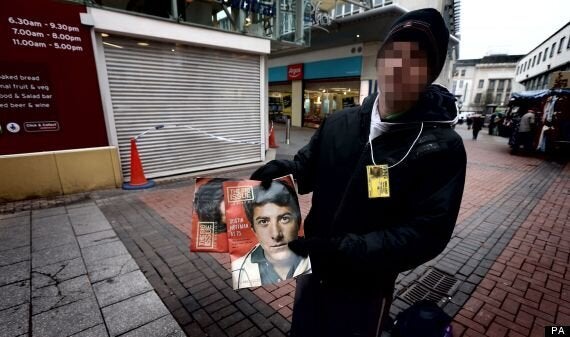 The two men who were fatally stabbed were sellers of the Big Issue
Bird said he and everyone at the publication are saddened by the news and are struggling to make sense of what happened.
West Midlands Police believe hundreds of people may have witnessed the stabbings in Union Street just before 6pm on Friday.
A force spokesman said they have identified the victims but their details are not yet being released.
One man was found outside the Sainsbury's in Martineau Place and the second man was found near Boots in Union Street.
Both men, in their 30s, had stab wounds and were pronounced dead at the scene.
A 23-year-old man was arrested shortly afterwards near the Odeon cinema in New Street. He remained in police custody tonight.
Postmortem examinations on the two men are due to take place.
In a statement, Bird said: "Myself and everyone at The Big Issue have been deeply saddened to hear the tragic news that two of our well-liked Birmingham-based vendors were stabbed to death in the city centre yesterday evening.
"We are struggling to make any sense of this utterly senseless attack, and our sincerest condolences go out to the families of the victims.
"This awful crime, perpetrated against two hard-working, mild-mannered men only serves to illustrate the extreme vulnerability of people who live and work on the streets, which is why we at The Big Issue are constantly striving to create opportunities which will help our vendors to get off the streets and out of harm's way.
"We are truly devastated that these two individuals have been deprived of just such a future."
A woman who runs a stall near the Sainsbury's store and who did not want to be named said she believes both of the victims may have been homeless men.
"If it's who I think it is, they've been around here for a while. They were homeless and two lovely men. One of them had a dog called Scooby who I used to bring titbits for. I can't believe they're both dead."
Officers and passers-by administered emergency first aid on both men, but both were pronounced dead at the scene.
A man, whose shop overlooks the store, said: "I heard there had been a row in the morning and then a bloke had gone back and stabbed them both."
A woman who works in an opticians overlooking the Odeon cinema said she saw a man with blood on his hands and clothes running by the shop, followed by police and security guards.
"The man ran into the cinema followed by lots of police and security guards. There was no screams or shouts. I saw blood on his hands and clothes," she said.
West Midlands Police said a number of people have already come forward with information but they still want more witnesses to help them piece together events around the stabbings.
Inspector David Keen said: "Two men have suffered fatal injuries. These have been inflicted in the heart of the city at a busy time when workers and shoppers would be heading home.
"There are potentially hundreds of witnesses either people who saw the stabbings or the offender leaving the scene, and I'd urged people to get in touch immediately - they could have vital information.
"A large police presence was quickly on the scene and a man was arrested swiftly. "
Extra police patrols were being mounted in the city centre throughout the weekend.
Anyone with information or who witnessed the incident is asked to call police on 101.