LS Lowry's place in art history is being reassessed in a new retrospective at Tate Britain.
The gallery, which had been accused by actor Sir Ian McKellen and others of shunning the Manchester artist, is holding a retrospective this summer.
Visitors will be able to see more than 80 works by the much-loved British painter, who has been "condescended to" by the art establishment over the years.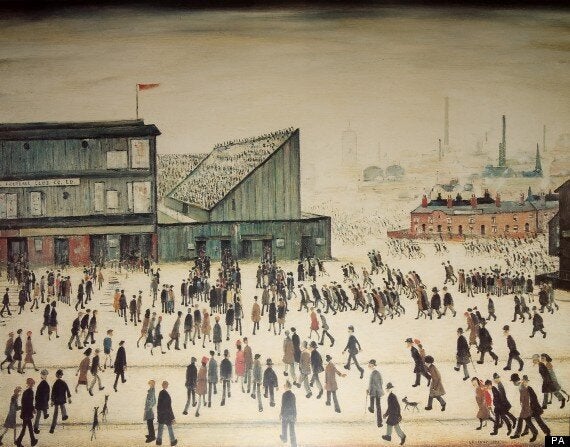 LS Lowry: often dismissed as 'amateur'
Lowry And The Painting Of Modern Life will be the first show held by a public institution in London since Lancashire-born Lowry's death in 1976.
Despite fetching sky-high prices at auction, Lowry, who worked as a rent collector, has often been dismissed as an amateur "Sunday painter".
Actor Sir Ian criticised the Tate in a TV documentary in 2011 for not showing its Lowry paintings, calling it "a shame, verging on the iniquitous, that foreign visitors to London shouldn't have access to the painter English people like more than most others".
Many, including former Oasis star Noel Gallagher, have accused the Tate of anti-northern bias.
The Tate holds 23 Lowry works, 16 of which are on paper and are regularly accessible in the prints and drawings room. But of its seven paintings, only one, Industrial Landscape (1955), has been on display in the capital in the past decade.
Tate Britain Director Penelope Curtis admitted that the Tate, which will be inviting Sir Ian to the show's opening, had an "unjustified" reputation for having a "vexed relationship with Lowry over the last few years".
But she said that the exhibition would be "serious, authentic and not cynical" and Lowry needed to be "reconciled to art history".
The exhibition opens in June and will feature eight large-scale urban landscapes shown together for the first time.
Lowry's famous depictions of northern industrial towns - depicting everything from factories and mills to football matches will be on display.
Co-curator TJ Clark said that the artist "worked hard and fought hard through the decades to find a way to do industrial landscapes in a way that was brutal and honest...but did not wallow in misery, which was the stock charge against Lowry.
"He tried for an art that struck a balance between recognising the beauty in this strange world around him but also recognising what was awful in it."
He added that Lowry had been "taken for granted and very much condescended to" by the art establishment, adding: "The cliches and catchphrases are out there...I very much enjoyed the look on my London art world friends when I told them what I was working on."
He added: "It's not for nothing that Lowry chose to show consistently in Paris rather than London in the 1930s. He was very much aware of the metropolitan resistance to taking the north seriously as a subject for painting."
He added: "He'll never be reconciled with London. It's absolutely extraordinary that the image of him as an amateur, as truly someone that could barely paint, just won't die.
"Coded into that is a deep conviction of the metropolitan elite that someone who spends their life painting that subject matter can't be taken seriously."
Co-curator Anne Wagner said that Lowry managed to "represent the life of the working class" without becoming a propagandist.
She said: "He's not a sentimental artist and he's not kitsch. He never tells you how to feel."