Pep Guardiola will become the new Bayern Munich manager in July on a three-year contract, the club has confirmed.
Guardiola appeared to hint he would move to a Premier League club for the 2013-14 campaign but the Bundesliga giants have secured the former Barça coach's services.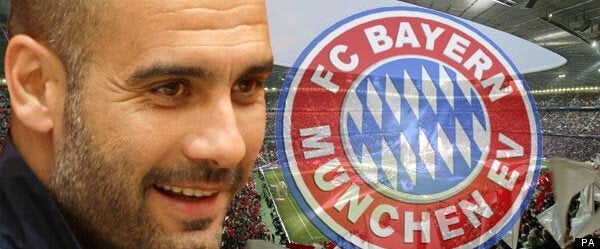 Karl-Heinz Rummenigge, Bayern's chief executive, said: "We are delighted that we have managed to get Pep Guardiola whom several big clubs wanted and contacted. He is one of the most successful trainers in the world and we are sure that not only Bayern Munich but the whole of German football will benefit from what he brings."
The news comes 24 hours after Bayern's media director Markus Horwick described claims the club had approached Guardiola to take over as "complete rubbish", and Guardiola himself said he hoped to manage in the Premier League.
The 41-year-old left Barcelona last year after four fruitful yet stressful seasons with the club, in which they came to be considered as one of club football's greatest sides.
Guardiola won three Primera Liga titles, two Champions Leagues, two Club World Cups and two Copa del Reys with the Blaugrana.
Bayern's current coach Jupp Heynckes, who guided the club to the Champions League final last year, will step down after two years in charge at the Allianz Arena.
Chelsea, who were rejected by Guardiola after they sacked Roberto di Matteo in November, are the outstanding Premier League club who will be smarting from the Spaniard's decision.
Owner Roman Abramovich seemed determined to bring Guardiola to Stamford Bridge as far back to last summer, when he only offered Di Matteo a two-year deal. Rafael Benítez's infamous "interim coach" role is further evidence Abramovich was waiting to lure Guardiola to the Premier League in the summer.
Manchester City meanwhile have hired former Barcelona directors Ferran Soriano and Txiki Begiristain as chief executive and director of football, amid rumours they had lined up Guardiola to replace Roberto Mancini.
The Bundesliga is however arguably the best all-round league in European football and Guardiola's summer arrival is guaranteed to heighten interest outside of Germany.
Bayern are 82% owned by their supporters, while the Bundesliga has been lauded for offering cheap ticket prices, generating great atmospheres and offering entertaining, high-quality football.
Bayern are currently nine points clear with Borussia Dortmund, champions the last two seasons, 12 points behind them.
Popular in the Community