People across swathes of the UK are being warned of potential disruption as heavy snow is forecast for Friday.
The Met Office has issued an "amber" severe weather warning for parts of Wales and western England where up to 10 to 15cm (4-6in) of snow is expected, with as much as 20cm (8in) or more set to fall over the hills.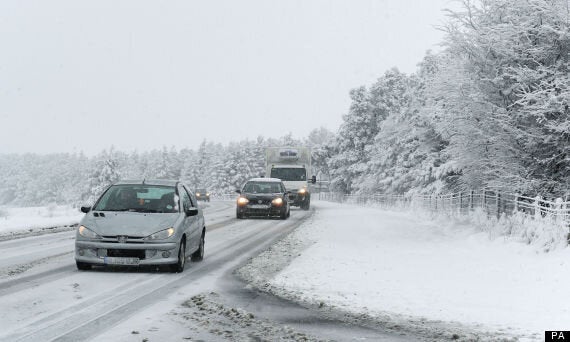 Traffic makes its way along snow road at Hole of Horcum
The official forecaster is warning that parts of north-west England, Wales and the West Midlands are particularly at risk of significant snow falls and strong winds which will create blizzard conditions.
Much of the rest of the UK is also being urged to brace itself for widespread snow, although areas in the far west, including Northern Ireland, Cornwall and extreme western parts of Wales are likely to see rain.
Eddy Carroll, Met Office chief forecaster, said: "The snow is expected to be heaviest through Friday morning, slowly weakening and clearing east during the second half of the day.
"Clearly there is the potential for significant disruption to people's plans. We should all keep up to date with the latest weather forecasts, advice from local agencies and be prepared to change our travel plans."
Darron Burness, head of the AA's severe weather team, said: "With the outlook remaining cold, drivers need to be prepared for possible disruption.
"Before heading out, check the Met Office weather alerts and traffic reports and allow a bit more time for your journey, as you don't want to rush on potentially icy roads.
"Do the basic checks on your car and, in case of any problems, carry plenty of warm clothing, blankets, de-icer and scraper, some food, hot flask and a fully-charged mobile." Council workers grit the pavements around Bingham, Nottinghamshire
Steve Crosthwaite, head of the Highways Agency's National Traffic Operations Centre said: "We advise drivers to check road conditions and the Met Office weather forecast before they set off and during severe weather to consider whether their journey is essential.
"They may want to delay their travel until conditions improve and to allow our winter fleet the chance to treat the roads.
"Our traffic officers are working round the clock to monitor the network, deal with any incidents and keep traffic moving."
The Met Office said that there will be less severe conditions over the weekend, but there are still forecast to be outbreaks of rain, sleet and snow pushing in from the west.
The snow that has settled will be slow to melt and there will be a continued risk of icy conditions, particularly at night.
The freezing weather has already caused havoc on transport networks, with a six-vehicle pile-up leaving three people injured yesterday, and the AA reporting about 1,000 breakdowns an hour.
In Norfolk, 262 schools have closed due to the weather and freezing fog made conditions hazardous this morning in the Midlands, East Anglia and central and southern England.
A helicopter crashed in central London this morning when it hit a crane on a high building in foggy conditions, killing two people.