Update: 17:34, 17 January 2013 - Met Office 'Red' warnings
If you're intending to brave public transport tomorrow, better wear your snowshoes.
Britain is set to wake up to a blanket of snow on Friday, with up to 10inches (25cm) of the white stuff forecast to fall overnight.
Along with the fact temperatures are expected to remain below zero, come the typical warnings of "travel chaos."
Scroll down for more pictures of snowy Britain Wrap up warm - up to 10 inches of snow are expected overnight
Blizzards and strong winds are set to make conditions treacherous on the roads while motorists are being warned that heavy snow will arrive before the morning rush-hour.
The Met Office has issued a "red" severe weather warning for heavy snow in upland parts of southern Wales. Amber alerts were in place for the Midlands, London and the South, the east of England, the North West and Northern Ireland.
It came as police said a pensioner who was found dead in the street near his home may have collapsed while clearing snow from his driveway.
Graham Clark, who was in his 70s, was discovered with serious head injuries in the village of Buxhall in Suffolk on Tuesday afternoon.
The latest bout of wintry weather is expected to set in overnight, hitting Wales and the South West before it pushes across the UK.
Laura Caldwell, a forecaster for MeteoGroup, the weather division of the Press Association, said 4-6in (10-15cm) is predicted to fall quite widely with as much as 10in (25cm) set to cover the hills.
"Parts of the West Country, Wales, the West Midlands and central and southern England are going to get quite a bit of snow tomorrow," she added.
"There will be quite a few centimetres in the morning with up to 10cm falling through the day.
"That snow will carry on, pushing north and east so it will cover all of England by the end of the day and even parts of southern Scotland."
Wales and the Midlands are expected to see the worst of the snow, while London and East Anglia are likely see accumulations of around 4in (10cm).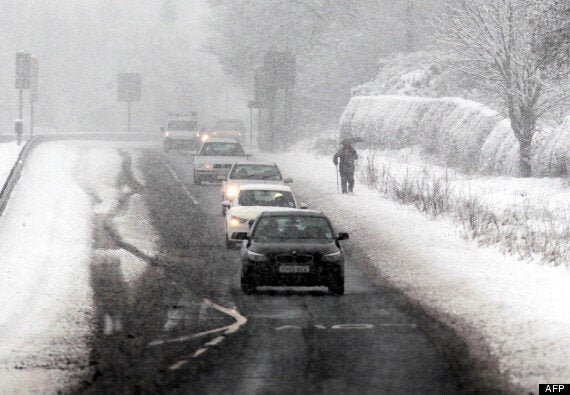 Travel is expected to be 'messy' for commuters
Ms Caldwell added: "It's going to inevitably cause disruption on the roads and railways. It's going to be a bit of a messy day for travel."
Forecasts suggest daytime temperatures will struggle to get above freezing in many areas, with the wind chill making it feel even colder.
The snow is expected to ease off later in the day, remaining largely in eastern areas.
But it is likely to stay very cold over the weekend.
The Highways Agency has issued an amber alert and has placed ploughs and snow blowers on stand-by.
Steve Crosthwaite, head of the agency's National Traffic Operations Centre, urged drivers to allow more time for morning travel.
"During periods of severe weather we also suggest people consider whether their journey is essential," he added.
"They may want to delay their travel until conditions improve and to allow our winter fleet the chance to treat the roads."
London Fire Brigade urged caution during the "Arctic blast".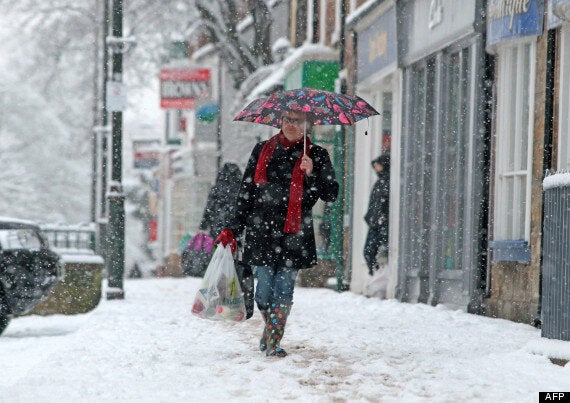 Blizzards and strong winds will make roads treacherous
Its warning follows two serious fires this week caused by householders taking extreme measures to keep warm.
Yesterday, fire crews were called to rescue an elderly man from a serious blaze in Wembley, north London, which is believed to have been caused by a halogen heater being placed too close to flammable items.
Last week, firefighters battled flames in Fulham, west London, after an electric blanket was left on for the weekend.
British Gas said it was expecting a "huge spike of activity" for its home service engineers this weekend, predicting they would attend around 20,000 call-outs.
Matthew Bateman, managing director of the firm's home services branch, said: "With the recent mild weather it's easy to understand why people may have thought winter was behind them, but over the weekend we've had calls from a huge number of customers experiencing problems with their heating or hot water."
In Dover, Kent, four accidents were reported on the A258 within the space of three hours, prompting police to urge motorists to take extra care as temperatures fall.
The first crash happened when a van toppled on to its side just after 6am, but the driver escaped serious injury.
Less than an hour later, a collision occurred between a Vauxhall and a bus. No injuries were reported.
While officers were dealing with both incidents they discovered a car in a ditch, and later, on another stretch of the same road, a van crashed into a traffic sign at 7.40am.
The Highways Agency advised motorists to check the weather forecast on Thursday evening and allow extra time for their journey in the morning.
South West Trains said it would be operating a revised timetable on a number of routes tomorrow. These include London to Bournemouth and Weymouth, London to Salisbury and Portsmouth and London to Reading.
East Coast train company advised passengers to check before travelling tomorrow. The company is lifting ticket restrictions for all journeys on its trains which arrive in, or depart from, King's Cross station in London after 10am tomorrow.
East Coast advised passengers wherever possible to travel before 6pm tomorrow, as heavier snowfalls were predicted after that time.
The Southeastern train company also advised passengers to make checks before setting out.
A Southeastern spokesman said: "Given the weather forecast, there may be disruption on some routes through the day."
The AA said the greatest risk of disruption to road travel tomorrow was in Wales, the West Midlands, southern England and Northern Ireland.
Darron Burness, the AA's head of special operations, said: "Tomorrow morning's commute is likely to test man and machine with potentially challenging driving conditions across many areas. If the snow comes in quickly, it will cause problems, particularly drifting snow.
"Even if you only have a short journey, as a bare minimum, take warm clothing, de-icer and a fully-charged mobile."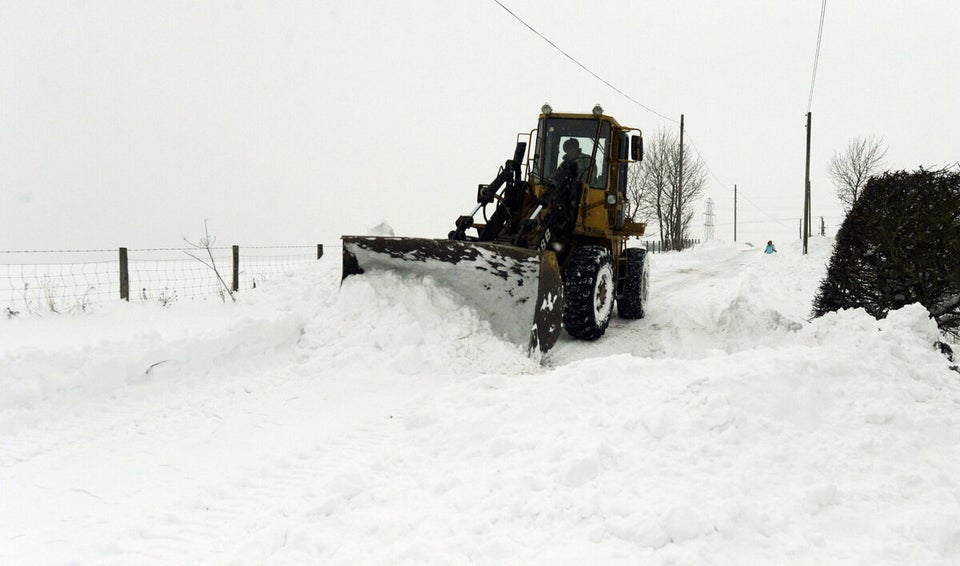 Snow Covers UK
Related