Burgers containing horse meat could have been made from "diseased or injured animals", according to environmental health experts.
Health concerns have been raised by the Society of Chief Officers of Environmental Health in Scotland (SOCOEHS) over the safety of beefburgers which have been found to contain horse meat.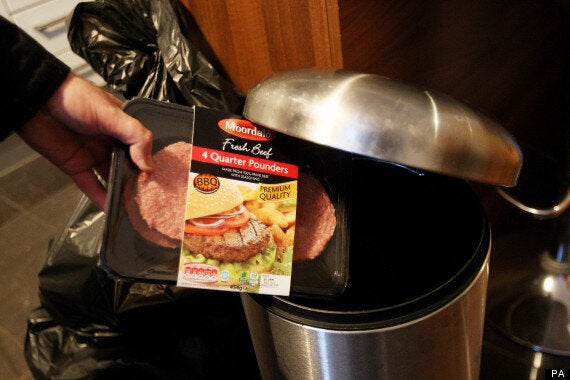 More than 10 million burgers are thought to be contaminated
The chief of the SOCOEHS said "there is no way of telling whether the meat is safe" because these burgers have bypassed official inspection.
John Sleith, chairman of the organisation, said: "We note that statements are being made that it is not a health issue, but our concern is that there is no information on how the horse meat came to be in the burgers and so there is no way of telling whether the meat is safe to eat, it could be from diseased or injured animals, for example.
"If it hasn't come through the official inspection system, then there is no confidence that it is completely harmless.
"Investigations are being carried out in the Irish Republic on exactly how these burgers were made."
Sleith also said that this scandal was an example of "food fraud" which is becoming an increasing problem.
"This episode is indicative of a growing trend we are finding, where there is substitution of meat products," he said.
"Food fraud is big business and food inspectors have to be alert to it.
"Recently, for example, there have been cases of cheap beef being sold as more expensive lamb in curries.
"It is important that the public are well-informed about food ingredients and that they can have confidence in what is being produced.
"Food officers regularly carry out spot checks on food producers and manufacturers at every level, including taking random samples for analysis.
"We would urge the public, or indeed food workers, to contact their local Environmental Health office if they suspect anything unusual in their food or drinks products."
An industry source told the newspaper that economy burgers are usually bulked with "additive mixes of concentrated proteins extracted from animal carcasses and offcuts", and it was this that was the likely source of the contamination rather than fresh horse meat.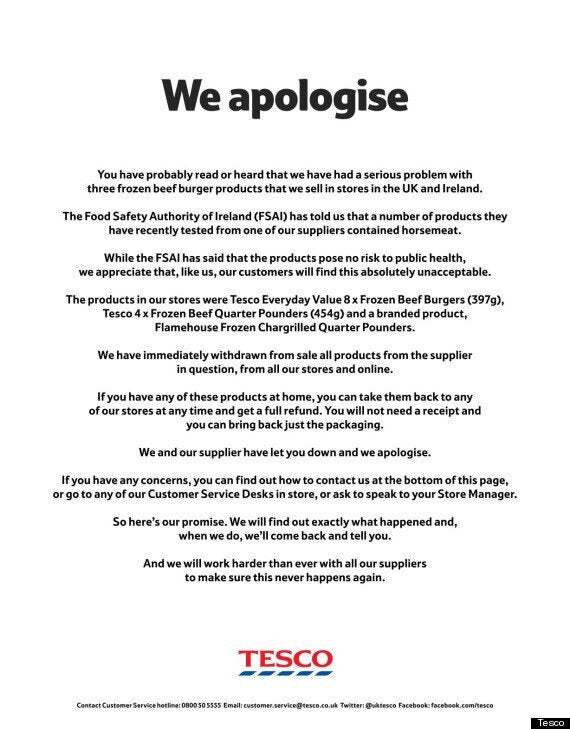 The apology came as a reported £300 million was wiped off Tesco's stock market value.
Aldi, Lidl and Iceland have also withdrawn frozen beefburgers from their shelves after they were found to be contaminated with
Sainsbury's, Asda and the Co-op later withdrew some frozen products but stressed that the move was "purely precautionary" and they had not been found to be selling contaminated food.
Tesco's apology came as a food expert claimed horse meat could have been in beefburgers for years, but remained undetected because of insufficient food regulation.
The Food Standards Agency (FSA) said it would consider taking legal action against companies at the centre of the scandal.
But the organisation was criticised for not carrying out tests in the past because horse meat posed no threat to public health, the Daily Telegraph said.
Tim Lang, a professor of food policy at City University in London, told the newspaper: "It could have been going on for years, but we wouldn't know about it because we have never conducted tests.
"For too long we have had light-touch regulation.
"The Food Standards Agency has to be institutionalised into taking a more critical approach.
"They have to work on the assumption that things could go wrong."
Meanwhile, the food company at the centre of the scandal yesterday vowed to adopt strict DNA testing of its products to prevent a repeat.
The ABP Food Group, one of Europe's biggest suppliers and processors, is being investigated by health and agriculture authorities in the UK and Ireland over the controversy.
Two of its subsidiaries, Silvercrest Foods in Ireland and Dalepak Hambleton in Yorkshire, supplied beefburgers with traces of equine DNA to supermarkets, including one product classed as 29% horse.
An ABP spokesman said: "It is vital that the integrity of the supply chain is assured and we are committed to restoring consumer confidence."
A third company, Liffey meats, based in Co Cavan, Ireland, was also found to be supplying products to supermarkets with traces of horse DNA.
Ten million burgers have been taken off shelves as a result of the scandal.
Westminster has said criminal prosecutions could follow an investigation into the horse meat contamination of burgers sold by some supermarkets.
A spokesman for the FSA said: "There is nothing about horsemeat which makes it any more or less safe than other meat products. The meat products were supplied to the retailers by approved establishments. We have therefore been advising consumers that, on the basis of the evidence we have, there is no food safety risk with these products.
"In addition, the burgers that tested positive for horse DNA were then tested for the presence of phenylbutazone, a commonly-used medicine in horses that is not allowed in the food chain, and all of the results were negative."