Thousands of households were left without power as heavy snow swept the UK and brought parts of the country slipping and sliding to a halt.
Hundreds of flights were cancelled at Britain's busiest airport while train companies axed rail services and roads were closed.
Motorists were urged to avoid all but essential journeys amid strong winds, plunging temperatures and blizzards which sent several cars spinning into ditches.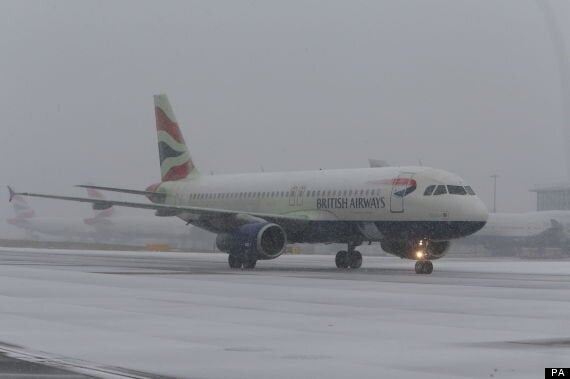 A plane sits on the runway at Heathrow airport, as snow shut roads and disrupted train travel today across the UK.
The arctic blasts forced nearly 2,000 schools to shut their doors, meaning some sixth-form and college students had their A-level exams postponed.
The weather meant good news for thousands of school-children, who escaped the classroom to enjoy the snow.
But the weather heaped misery on more than 10,000 households in South Wales, where residents found themselves with no power this morning.
Western Power said it was working to resolve the problem and later restored electricity in half of the homes affected.
It came after the Met Office issued a "red" severe weather warning for heavy snow in Wales, which experienced the worst of the snow, with some 25cm falling at Sennybridge, in Powys.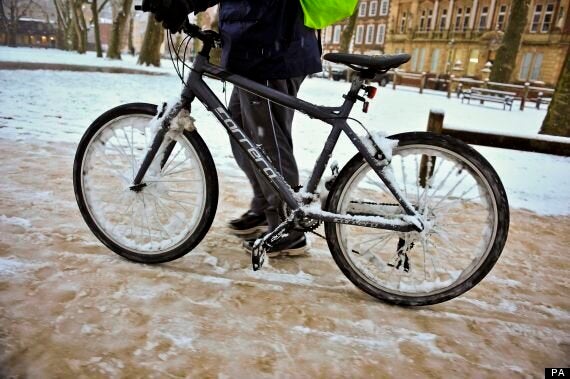 A cyclist decides it is safer to walk as he walks through snow and ice in Bristol
The forecast led hundreds of people to rush to the shops to stock up on provisions amid fears they would be snowed in.
Frantic scenes of panic-buying were later reported in stores across the West Country, Home Counties and south Wales as stores ran low on stock.
Meanwhile several airports were forced to ground flights or close following thick snow flurries and near galeforce winds of 30mph.
A spokesman for Heathrow - which shut both runways for periods during the day to clear snow - said 369 flights were cancelled.
Bristol and Birmingham airports closed for a time while Southampton stayed shut for most of the day.
Rail travellers also experienced upheaval as operators scrapped services.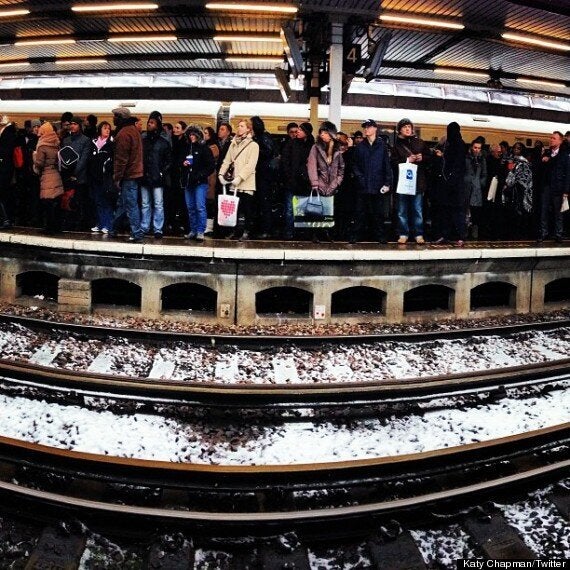 Commuters struggle to get home at London Bridge
Eurostar axed trains between London and Brussels while South West Trains announced cancellations. The East Midlands, Greater Anglia and Southern companies ran amended timetables.
Poor conditions - which saw between 5cm and 10cm of snow settle across much of the country - also caused severe hold-ups and several prangs on the roads.
Cardiff city centre became a sludgy bumper-to-bumper convoy of commuters this morning as some braved the conditions, while other usually busy routes were empty of cars.
By the end of the day, the AA expected to have attended around 11,000 call-outs, compared with around 9,500 on an average Friday.
It said the busiest areas were the south coast, parts of south west England, the Midlands and London.
Darron Burness, the AA's head of special operations, said: "There's been a big impact on the roads as the snow fell so heavily with traffic crawling on many routes and we've had reports of journeys taking three or four times longer than usual.
"With the snow compacting down and turning icy, we're likely to see treacherous driving conditions this evening and throughout the weekend. Any fresh snow on top will just add to the problems." Shoppers walk in the high street after heavy snowfall in Guisborough
The Met Office - which issued Amber alerts for the Midlands, London and the South, the east of England, the South West, the North West and Northern Ireland - warned snow and ice could continue to wreak havoc.
Frank Saunders, Met Office chief forecaster, said: "Although some further slight snowfalls are likely, with 1cm to 2cm of fresh snow in a few places, the focus switches to ice, with temperatures staying below zero over snow cover for many areas.
"The public should be aware of the risk of localised disruption to transport during this spell of wintry weather."
Popular in the Community