Well-known for his love of cars - Porsches, Aston Martins, Audis, Lamborghinis and Mercedes have all taken up garage space at one time or antoher - Wayne Rooney has now turned his attention to motorbikes.
Working with Danish motorcycle company, Lauge Jensen, the Manchester United striker has designed a 2012 cruiser-style machine which is expected to raise up to £60,000 for charity next month.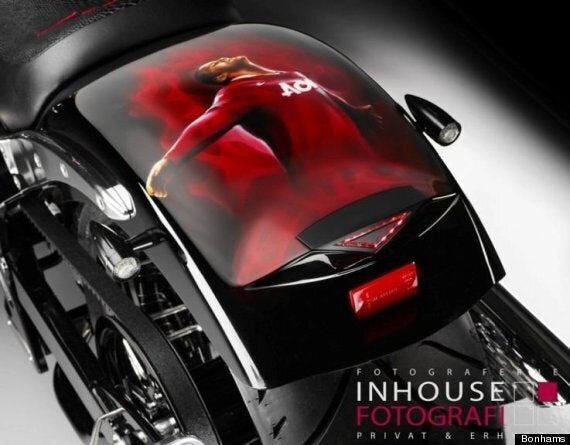 This Wayne Rooney mudguard could be yours
The bike which was custom-made by Lauge Jensen to Rooney's specifications, is to be sold at the Bonhams auction of Sports Memorabilia on 20 February where it is estimated to fetch between £40,000 and £60,000 for KidsAid, a Danish charitable foundation that helps young people affected by illness.
The motorcycle incorporates a number of 'blinging' special features designed by the England striker, including an autographed 'No 10' football shirt mounted and lacquer-sealed onto the petrol tank; a special shift rod incorporating 21 black AA diamonds and a white TW/VS diamond; and a rear mudguard featuring artwork depicting Rooney's celebration of his spectacular goal against Manchester City in 2011 that helped Manchester United claim that year's Premiership title and was named 'Best Goal' of the season.
Commenting on his design, Rooney said he was "really excited" to have been given the chance of creating the bike and described where the inspiration for the design came from.
"The bike.. takes its inspiration from the celebration of my overhead kick against Manchester City last season. The goal has been described by others as being of the highest quality and technical excellence, powerful and beautiful."
See more of Wayne's motorbike in the gallery below.
Related