Caked in make-up, sporting a Marilyn Monroe-style blonde wig and enough diamonds to make Rihanna proud, Vicki Vivacious saunters over to my table inside London's Palladium Theatre.
As she peeps out from beneath her spider-like lashes, she apologises for her outfit - a hoody and tracksuit bottoms. Vicki is currently on a break.
I am, in fact, talking to 26-year-old West End hopeful Aaron Johns, who's turned up at the 'Britain's Got Talent' auditions with the hope of becoming the first drag act to impress Simon Cowell.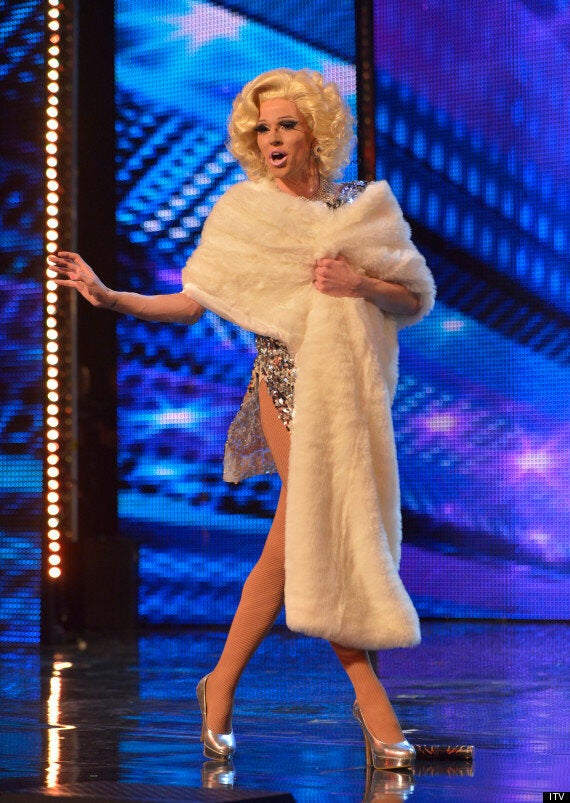 "Simon has buzzed every drag act they've ever had," he says nervously, his West Country accent peeping through.
Johns explains he moved to London from Cornwall to study drama, with dreams of starring in musicals.
However, he was diagnosed with epilepsy and needed to find a flexible job where he could work for himself, which is when he moved into drag.
The instantly-likeable 'BGT' contestant managed to bag a role on stage in 'Priscilla Queen of The Desert' before being kicked out for "being too skinny".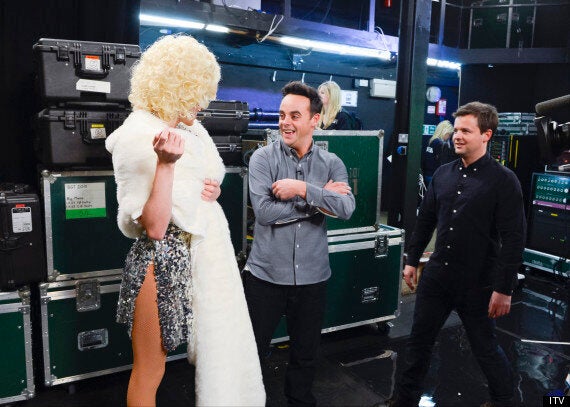 Vicki Vivacious backstage with Ant & Dec
"They wanted butch drag acts," he notes. And now he's arrived to sing 'Diamonds Are A Girls Best Friend', dressed in a sparkly dress and a bodystocking, to the 'BGT' judges.
"It's got a cutout of Simon's face covering my t*ts and David on my a*se," he laughs.
The Soho favourite already has friends in famous places - he shows me a picture of Vicki smooching Katie Price on his phone, adding: "Her lips are as firm as her t*ts."
And he's also pals with 'X Factor's' Rylan, who he says used to be out on the 'scene' a lot.
Is he about to win over Mr Cowell? He's hardly a dancing dog or Susan Boyle but maybe he's got a shot...