Dozens of paintings have been installed at the Royal Academy in preparation for its hotly anticipated Manet show - but one work is missing thanks to the snow.
The Royal Academy of Arts will open its doors on Saturday to the first major UK exhibition to showcase Edouard Manet's portraiture.
In response to demand for advance tickets for Manet: Portraying Life, it has announced late-night viewings, until 11pm on Fridays and Saturdays.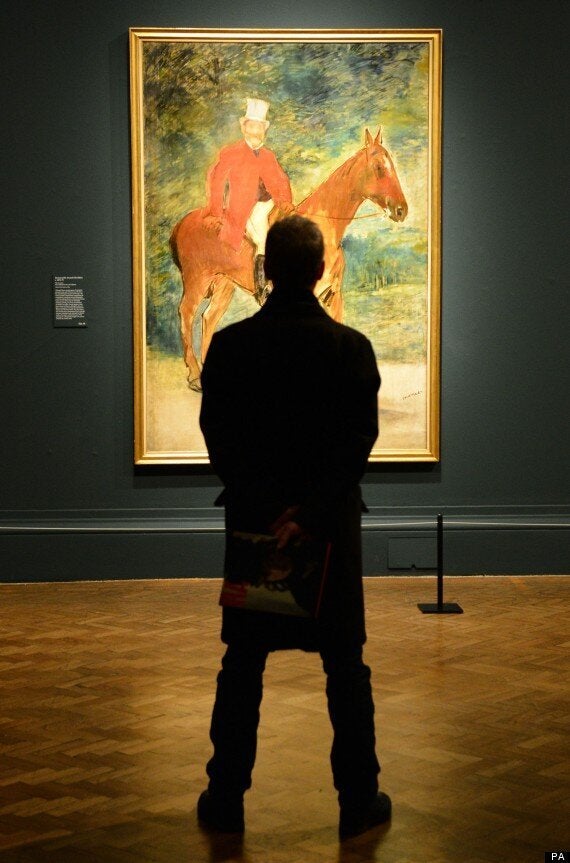 A visitor views Edouard Manet's Portrait of 'M. Arnaud (The Rider)'
At today's press preview, one painting - The Amazon (1875), featuring a woman on horseback - was absent due to the cold weather.
In the space where the painting should have been, a Royal Academy note said that "due to adverse weather conditions, the arrival of this painting has been delayed".
It said that the work, which was not exhibited in the French painter's lifetime, will be on display when the show opens to visitors on Saturday.
The painting is on loan from the Museu de Sao Paulo Assis Chateaubriand in Brazil and its arrival has been held up because of problems at Heathrow.
Curators say that Manet, who died at the age of 51 in 1883 following a debilitating illness, "forged a new visual language with which to reflect modern life".
The exhibition at the Royal Academy, which attracted record crowds to its David Hockney exhibition last year, features one of Manet's two known self-portraits, as well as paintings of the artist's family and other sitters.
Manet: Portraying Life opens on Saturday and runs until 14 April.
Related