Sir Bradley Wiggins has said Chris Froome will lead Team Sky at the 2013 Tour de France, as the recent knighthood effectively concedes his title and focuses on the Giro d'Italia.
During Wiggins' success in France last year, Froome briefly threatened to attack the Londoner on the final climb before Team Sky's management angrily ordered him back into line, a flashpoint memorably shown in Sky's recent documentary on Wiggins.
But it now appears Wiggins has acquiesced Froome and Braislford.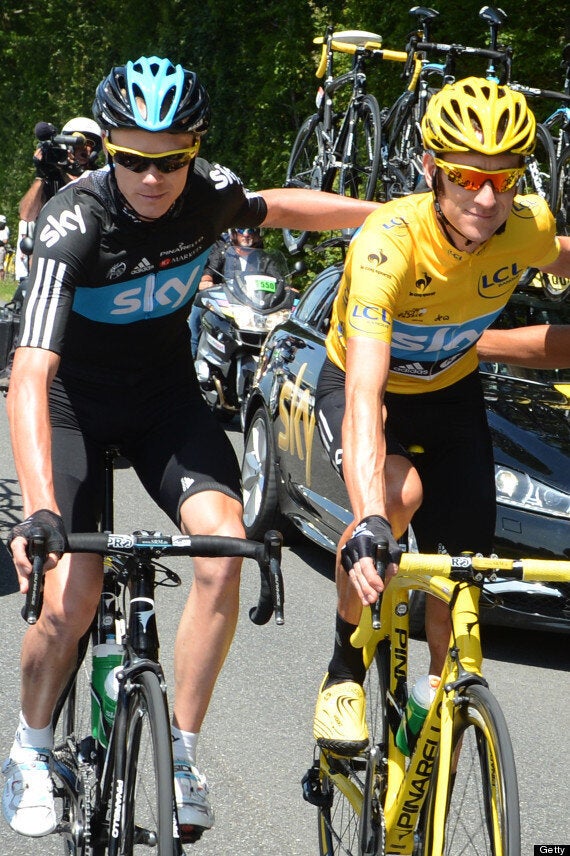 Froome (left) and Wiggins ride together in the last stage of the 2012 Tour
"I would love to win a second Tour, and if I get the chance to do it, not necessarily this season, that would be great," he told l'Équipe. "But it looks as if Chris will be the leader this year. That doesn't mean I'll be riding 200km a day on the front of the bunch for him. We will be there together as he was last year with me in the mountains."
He added in Italian sport paper La Gazzetta dello Sport the mountain climbs in Italy would make the Giro d'Italia a tougher obstacle than Le Tour.
"And there will be riders – I'm thinking of Vincenzo Nibali – who will be better prepared compared to the Tour. And those guys already know how you ride a Giro to win."
When asked why he had shaved off his trademark mod sideburns, Wiggins reaffirmed he did not want to be recognised by the public.
"I don't want to be a celebrity," the 32-year-old re-clarified. He revealed he dressed up as Batman for a New Year's Eve party when skiing and was still identified. "Someone recognised me in spite of the mask, asked me if I was Bradley Wiggins and I said I was called Jeremy ... I didn't want someone taking a photo of me dressed as Batman."
Despite abhorring celebrity, Wiggins has released his memoirs, played guitar with Paul Weller after his triumph at the Sports Personality of the Year awards and is now set to release a cover with Weller of The Jam's Window Shopping.
Earlier today, he vowed to turn up at the Manchester United training ground wearing a Liverpool shirt, boasting: "I'm a knight. I can do what I want."