Fresh snow will hit parts of the UK overnight on Tuesday, bringing further risk of traffic disruption, forecasters warned.
South and east Wales, southern England and the Midlands will see the worst of the flurries, which will fall on top of snow still frozen after several days of cold weather.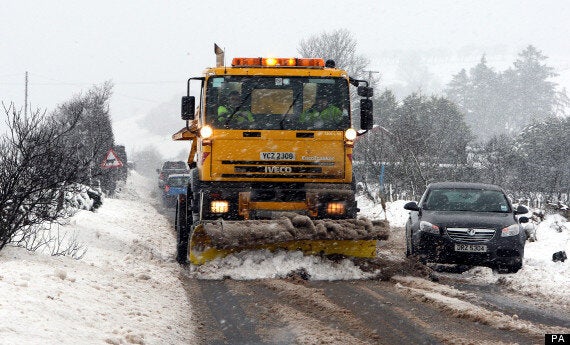 A snow plough and gritter, clears snow on the roads
Temperatures dropped to as low as minus 12.2C (10F) last night in eastern and southern parts of England, according to the Met Office, which still has an amber weather warning in place for England.
Almost 40 flights have been cancelled at Heathrow, the airport said.
Julian Mayes, senior forecaster with MeteoGroup, the weather division of the Press Association, said the Rhondda Valley in South Wales has seen 4in (10cm) of fresh snow already today.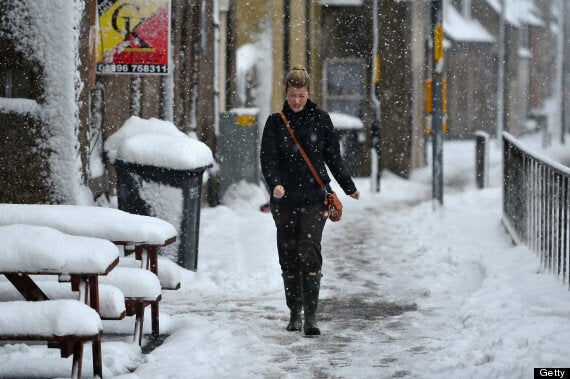 A pedestrian makes her way through the snow
"What is developing is rain along the south coast and South Wales," he said.
"This will push north into much of central England and Wales tonight. As it does so it will turn to snow. South east Wales may see (another) 5cm-10cm (2in-4in).
"It will persist through much of tomorrow, including along the M4 corridor as far east as Berkshire."
London will see "very little" fresh snow, he added.
Overnight, Cambridge was the coldest place in the UK last night, reaching minus 12.2C (10F), according to Met Office figures.
It was followed by Andrewsfield in Essex (minus 11.1C/12F), Cavendish in Suffolk (minus 10.6C/12.9F), Rothamstead in Hertfordshire (minus 10.4C/13.2F) and Marham in Norfolk (minus 10.3C/13.4F)
The warmest place yesterday was St Mary's in the Isles of Scilly, which reached 4.7C (40.4F)
Wales, the South West and the West Midlands bore the brunt of the weather overnight.
Several hundred Welsh schools were closed as snow continued to disrupt work and travel across the country.
Large pockets of Cornwall experienced their first snow-based disruption of 2013 today, as many awoke to a thin layer, which closed several schools in remote rural areas.
Icy conditions forced the temporary closure of the northbound A38(M) Aston Expressway, which links Birmingham city centre with the M6, during this morning's rush-hour.
More than 100 schools were closed in Birmingham, Wolverhampton and Staffordshire. Planes at Heathrow Airport
The heavy snow and frost have so far claimed the lives of seven people, including a postman who, Royal Mail confirmed last night, died while carrying out his rounds during the weekend's freezing temperatures on Exmoor in Somerset.
Tributes were paid today to John Bircham, who collapsed as he approached the end of his deliveries in and around the Somerset down of Dulverton on Saturday.
He had been a postman since the late 1980s.
It is understood that the 57-year-old father of two was towed out of a snowdrift by a farmer before collapsing soon afterwards.
A woman found dead in a garden early on Sunday is believed to have collapsed in the snow after a night out.
Bernadette Lee, 25, was discovered in the front garden of the house next to her sister's by a man walking his dog in Church Meadows, Deal, Kent. at 7.30am.
Kent Police are investigating the cause of death but there have been reports that she had no visible injuries and was found without a coat.
A man was killed in another weather-related incident when the car he was driving left the road and crashed into a tree on the A12 in Essex on Sunday evening.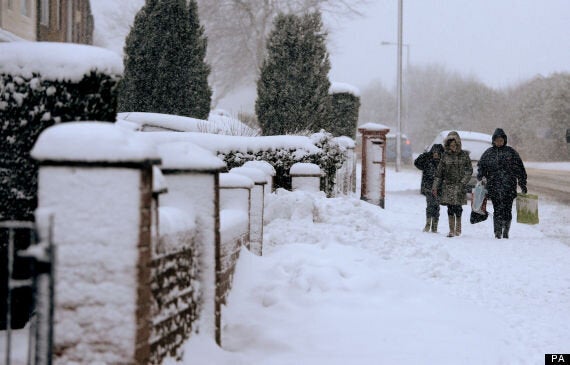 People walking through blizzard conditions in county Durham
It came after four people died in an avalanche as they descended Bidean Nam Bian in Glencoe in the Scottish Highlands on Saturday afternoon. A further two people survived.
Elsewhere, teenager Liam Stafford, 16, remains critically ill in hospital after hitting a tree while sledging in Flatts Lane Country Park, Normanby, Middlesbrough, on Sunday afternoon.
The RAC said it has its busiest day for five years on Monday.
It was expecting an extra 2,500 breakdowns today, a 30% increase to around 11,000 from its usual 8,500.
Spokesman Simon Williams said: "Between 10am and 11am on Monday we dealt with 21 breakdowns a minute or one every three seconds, leading to our busiest day for five years.
"By noon today we had handled as many breakdowns as we would by 5pm on a normal winter's Tuesday as motorists struggled with the conditions.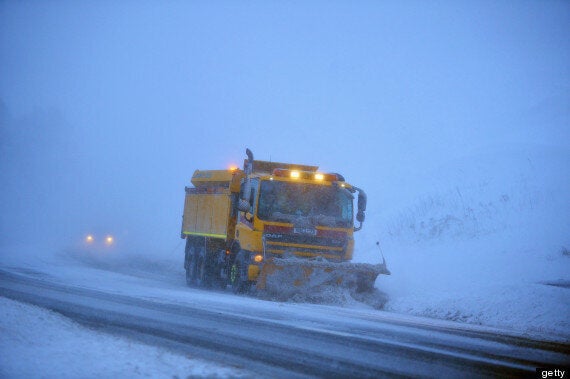 Gritter clears the road ahead of snow
"We expect to carry on experiencing a high volume of calls for help well into the evening."
Popular in the Community