A group of men from Yorkshire who built an igloo and put it up for sale on eBay have attracted bids of nearly £600 after posting an advert for a "beautifully presented stand alone apartment."
Craig Parker, Greg Davies, Cal Baranovsky and his brother Mark braved the winter weather to construct the 12x8ft snow structure, and in a fit of inspiration, put the eskimo hideout on eBay, all in the name of charity.
Cal, 30, who owns his own plumbing business, told the Huffington Post UK: "We built on Monday and so far it's still there. In fact if it snows again we might add to it.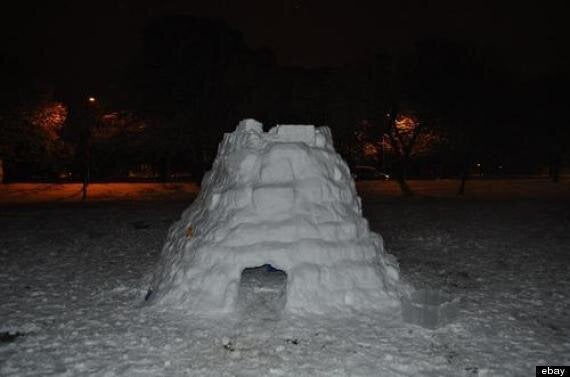 "If it melts it melts, but I think everybody knows it's just raising money for a cancer charity and everybody has been touched by the illness in some way. So far we have raised over £700 on our JustGiving site and nearly £600 on eBay."
The igloo is tall enough to stand up in, and according to Cal, can accommodate up to 20 people. According to their eBay ad, the other features the "studio apartment" boasts are a huge garden (it's built in a park) with easy access to Sunday football and the cheap council tax band D. The lads are fundraising for Yorkshire cancer research.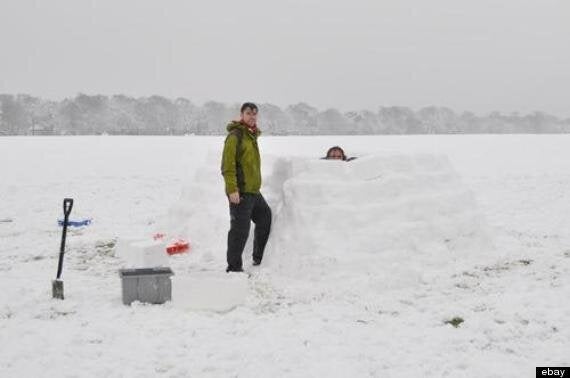 The intrepid lads mid-build
There are some caveats though, there is no fireplace (for health and safety reasons) and the toilets are a "short walk away."
Is this the most impressive snow creation you've seen yet? Have a flick through some of Huff Post UK's reader's snow beasts.